Berliners Bewildered by Another Potential Bush-Clinton Matchup
Jeb Bush started a five-day tour of Europe in Berlin, where they are trying to figure out why so few families seem to dominate presidential politics.
by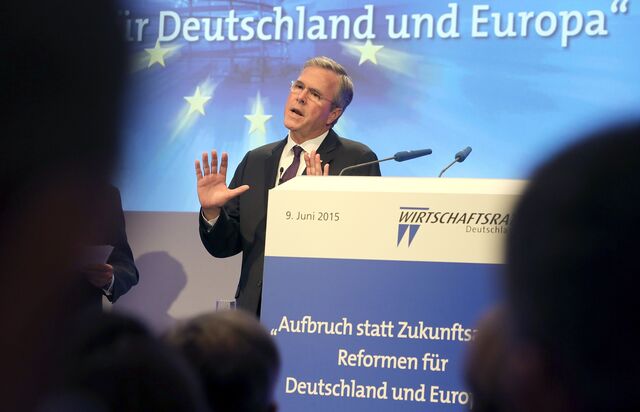 German attorney Armin Bischofberger covers his face with his hands at the thought of another Clinton-Bush presidential race in the United States. Suchitra Dey, a social worker, shakes her head.
Chris Stuhler, who ferries tourists around Berlin in a rickshaw attached to a bicycle, just laughs.
"In Europe, it's not a political qualification to be from a certain family," Stuhler said, feet propped up on the back of his bike during a break near the city's historic Brandenburg Gate. "Perhaps Americans just want the '90's back?"
Bush, a former Florida governor, was in Berlin to start a five-day, three-country tour of Europe before officially announcing his campaign next week. In a speech Tuesday to a group of business leaders and conservative politicians, Bush addressed the connection between strong economies and national security, saying, "Our prosperity underwrites our security." 
He also referred to his family legacy, noting his "personal pride" as he spoke about how his father, President George H.W. Bush, worked with then-Chancellor Helmut Kohl "as East and West came together."
"Like that great challenge of 25 years ago, we now face similar kinds of challenges and our own tests," Bush said. He said that unification should "be in our hearts and minds." "When historic opportunities arrived, they had the wisdom to seize them with courage and confidence. Exactly as America and Germany must do today."
Before the speech, Bush met with Germany's Finance Minister Wolfgang Schäuble, the Foreign Minister Frank-Walter Steinmeier, and U.S. Ambassador John Emerson, who said in a brief interview that the pair talked about U.S.-German relations, and the G7 summit held this week in Germany. On Wednesday, Bush travels to Warsaw, where he'll meet with President-elect Andrzej Duda, before finishing his trip in Tallinn, Estonia, a tiny, technologically advanced country that shares a border with Russia.
While Bush's father has been honored with a bronze bust at the "Fathers of Unity" monument in Berlin, the reputation of his brother, President George W. Bush, is mixed. Interviews around Berlin revealed a clear sense of frustration at the family dynasties in American politics.
One resident, Christian Kraus, said the fact that Hillary Clinton and Jeb Bush are two of the leading presidential contenders suggests that money plays too large of a role in U.S. presidential campaigns, and that only a few families can compete. In 2012, the two sides spending on behalf of President Barack Obama and his Republican challenger, Mitt Romney, topped $1 billion apiece.
"It symbolizes that you really need to be from that kind of a background to have a chance at not just making a candidacy, but running it all the way through," Kraus, a 35-year-old management consultant, said standing in front of the "Fathers of Unity" monument.
Bischofberger, a 51-year-old attorney, pointed out that the Kennedys preceded the Clintons and Bushes, and said such family dynasties are reserved for monarchies in Europe. "That tells me that only a few really have the possibility to run for the president's job," he said sitting on a bench in Pariser Platz, a square in the center of Berlin. 
Bush opened his speech by joking about a shakeup within his campaign staff, saying, "I'll find out about that, I guess, when I get back home."
In the question-and-answer session that followed, Bush also joked when asked whether he'd support a no-spying agreement for countries in the G7 group. "I thought you were talking about Google," Bush said, with Google CEO Eric Schmidt sitting nearby and to groans from the audience. "The devil made me do it, Eric, I apologize."
While calling for more robust spending on the military in the U.S.—he blamed sequestration cuts for emboldening China's aggressive push to claim disputed reefs in the South China Sea—Bush struck a moderate tone on Russia.
He decribed Russian leader Vladimir Putin as a "ruthless pragmatist" who "will push until someone pushes back.And I believe that's NATO, that's NATO's responsibility to do just that."
Yet Bush said that pushing required a careful approach.
"We should never do it in a way that pushes Russia away for a generation of a time," Bush said. "Everything we do ought to be to isolate its corrupt leadership from its people, for starters."  
That degree of nuance may surprise Berliners, many of whom have been frustrated by U.S. foreign policy.
Minerva Burroni, a 26-year-old writer, said that tens of thousands showed up to see Barack Obama during his initial presidential campaign because he was a "symbol of hope for everyone who was against war."
Now, Minerva said Obama is "nothing special," and, when it comes to foreign policy, might as well be another Bush or Clinton.
"I feel bad for American citizens," she said about U.S. voters. "I don't think there is a lot of difference between Bush and Clinton, or Obama."
Before it's here, it's on the Bloomberg Terminal.
LEARN MORE