Andrew Cuomo Making the Most of His 'Shawshank' Moment
There's been a hint of fascination, bordering on admiration, in the governor's full-court media press regarding the escape of two hardcore inmates.
by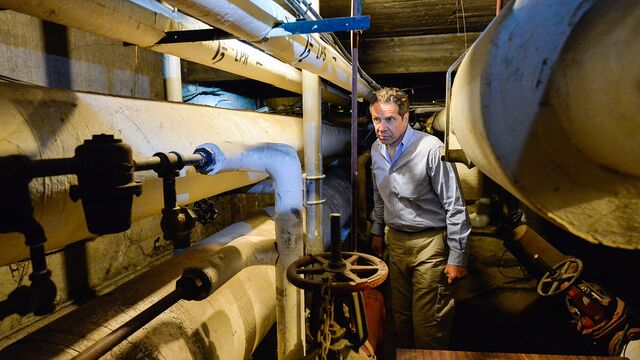 This is an excerpt from Bloomberg's daily Opening Line column.
"From pre-production to final cut, we will be your partner every step of the way," promises the New York State Office of Motion Picture & Television Development, which offers tax incentives, "great locations" and a deep talent pool to productions that choose to film in the Empire State.
Not to mention a governor with a bit of the acting bug. 
There's been a hint of fascination, bordering on admiration, in Andrew Cuomo's full-court media press regarding the two hardcore inmates who cut and tunneled their way out of a high-security prison about 20 miles south of the Canadian border.
"We went back and pieced together what they did," Cuomo said Saturday. "It was elaborate. It was sophisticated. It encompassed drilling through steel walls and steel pipes." 
Speaking on ABC on Sunday, Cuomo said the breakout "could have been a plot from a movie." On MSNBC yesterday he elaborated: "They put dummies in the bed like 'The Shawshank Redemption.'"
The multimedia presentation on Cuomo's official website would make most digital magazines blush. The Washington Post turned it into a slideshow called, "Inside the escape route of a N.Y. prison break."
The website informs interested journalists, "B-roll video of the governor touring the prison escape route is available in TV-quality (h264, mp4) format here. Photos are available here." 
The video, from Saturday, shows the governor in shirtsleeves and cargo pants, ducking through a tight space and climbing a ladder as a camera shutter clicks in rapid-fire mode.
Later, in his blue blazer, he looks in a cell and asks an inmate, "Must have kept you awake with all that cutting, huh?"
Yesterday on Fox Business News, he continued marveling at the escape.
"If it was written as a movie plot, you would say it was overdone," he said. ("Amazing story. Governor, thanks so much for the update," Maria Bartiromo said in closing the interview. "It is always a fun weekend in New York, Maria," Cuomo replied, in what might become a new state travel slogan.)
The gubernatorial disaster tour is, of course, a staple of American politics. (Think Chris Christie at the Jersey shore, though not at Yankee Stadium.) Just last week, Governor Mary Fallin put on her Oklahoma National Guard "Commander in Chief" shirt to get a firsthand look at flood damage.
Why do we not just tolerate but expect this? Political leaders might be most useful at their government command posts, or maybe out of sight altogether. Of course, then they'd be criticized for being out of touch. Can't win. 
With some progress in the investigation being reported yesterday, it might be a good time for the governor to step back and focus on the more mundane tasks of leading a state. Like working with Lady Gaga.
Before it's here, it's on the Bloomberg Terminal.
LEARN MORE