'Wizards of Wall Street' Helpless on Drought, Jerry Brown Says
James Nash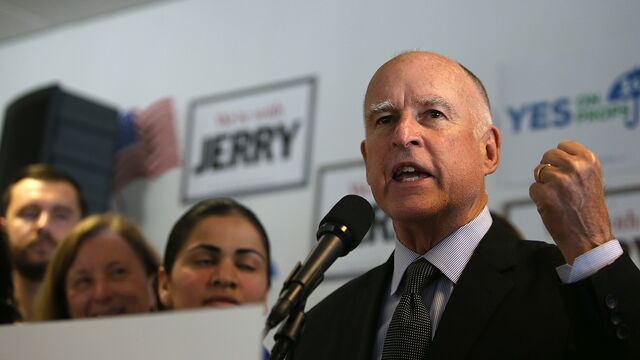 California Governor Jerry Brown said climate change and a worsening four-year drought have left the state at the mercy of nature that not even the most creative technical and financial solutions can counter.
Speaking at a meeting of the Metropolitan Water District of Southern California, the 77-year-old governor said the drought ravaging California's $46.4 billion agriculture industry and reducing urban supplies is part of an historic pattern. What's different now are warmer temperatures that dry soil and increase risk of wildfire and disease, Brown said.
"While the wizards of Wall Street have many tools and great capacity, they can't affect the weather," Brown said at the meeting in Los Angeles. "Nothing is more fundamental than water."
About 47 percent of California is experiencing "exceptional" drought, the most severe classification, according to the U.S. Drought Monitor, a federal index. Brown spoke hours after rain sprinkles fell in downtown Los Angeles. Even so, the 8.46 inches (21.49 centimeters) that have fallen in the second-largest U.S. city since Oct. 1 represents just 56 percent of the historic norm for the period, according to National Weather Service data.
The district had about $69 billion of debt outstanding through June 2014, according to its annual financial report.
Brown said climate change is worsening the effects of drought, as well as carrying life-threatening consequences of its own.
"It's a very catastrophic existential threat that we have to take as seriously as though we were facing a military adversary," he told the water board.
Before it's here, it's on the Bloomberg Terminal.
LEARN MORE