What It Feels Like in Those Huge Crowds for Bernie Sanders
Saturday's rally in Keene, New Hampshire, showed how much enthusiasm the Vermont senator is generating on the campaign trail.
by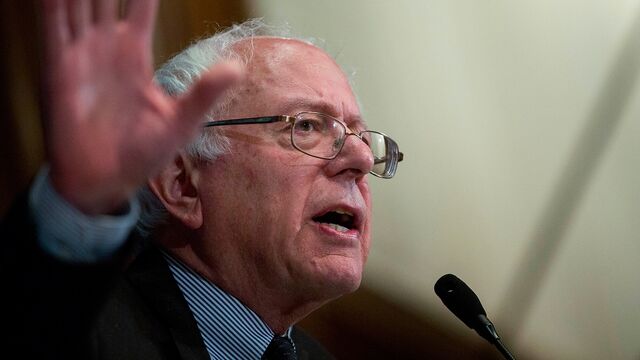 It's good to be the insurgent candidate. On Saturday, Vermont Senator Bernie Sanders made just one public campaign stop in New Hampshire, in the city of Keene. His campaign clocked more than 750 people in the crowd; the local Keene Sentinel saw 1,000; the candidate gave the newsy promise that he would "win New Hampshire."
Within 24 hours, boosted by supporters in Progressive Democrats of America, Sanders took 41 percent of the vote at the Wisconsin Democrats' straw poll, a feature of their state convention that had heretofore received little media coverage. That news has led the Nation's website since last night, and inspired reporters to reconstruct how it happened.
That has given the Sanders rallies something familiar to insurgent campaigns—a sense that people need to be there lest the media move on. In Keene, a random sample of voters in the audience found plenty of visitors from Vermont who just wanted to see their local hero and be part of a movement. They packed a rec center to the doors, and out, past the tables where attendees were asked to sign their names and e-mail addresses. Some grabbed Sanders 2016 merchandise, such as a bumper sticker reading "Bernie 2016: You Know You Wanna!" Even with the doors open, the heat steadily rose inside the room, with at most two or three people leaving before the end of Sanders's 53-minute speech.
Also on Bloomberg Politics: Adventures in Bernieland: Meet the People Who Think Sanders Can Save America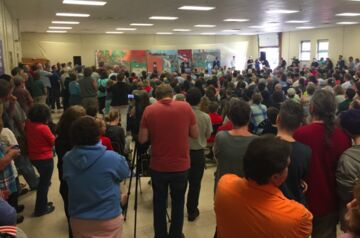 When the Q&A began, the second question to Sanders was about how he could avoid being painted as "fringe." Sanders's answer began with an attack on the glibness of modern political coverage.
"To the best of my knowledge—it might have changed recently—in terms of ABC, CBS, and NBC, national news, do you know how much time has been devoted to the TPP?" asked Sanders. "Zero. If I were to slip, walking out of here, on a banana peel, that would be the major story of this event, OK? The role you've got to play is to make the media cover the serious issues."
After more examples of what the media got wrong, Sanders went back to the question. 
"Now, you ask me how we defeat this idea that I am a quote-unquote fringe candidate?" he asked. "You've done that today. I don't know this to be a fact, but when we were in Iowa, we had 500, 700 people coming out. The media said those were the largest crowds for any candidate. I don't what the turnouts are for Chris Christie, Jeb Bush, and the other quote-unquote mainstream candidates—I'd be surprised if they bring out as many people are as here today."
Yet at the close of the speech, Sanders kept glad handling to a minimum. He walked to the front of the crowd, meeting the Duggan family (a mom, dad, and three kids all wearing homemade Sanders gear) and taking some selfies. He did not wade beyond the third row of what had to be 25 rows of chairs. Quite quickly, he headed toward the car that would take him out of the event and held a short press availability, where among other questions he fielded a Swedish TV network's query about why he liked Scandinavia so much.
Sanders ended the press scrum after just five minutes, closing with a call for more debates as a cure for voter ignorance. "OK, people can say, this candidate Jeb Bush wants to cut Social Security," said Sanders. "OK—that's his position. I am for expanding Social Security." With more "OK," Sanders walked to the waiting car, and a reporter shouted a final question about why Americans making more than $200,000 should vote for him.
"Because they love this country and they want to see future generations do well," Sanders said.
With that, Sanders was off. A middle-aged man who insisted that he had been told he could speak with Sanders that day was left standing plaintively outside; the rest of the crowd, realizing that Sanders was gone, kept moving. The candidate, having skipped that part of the primary where he introduces himself to small rooms of voters, was not really on a charm offensive. He just explaining how things were, and people seemed to be thrilled.
Before it's here, it's on the Bloomberg Terminal.
LEARN MORE