Hillary Clinton Expresses Support for Higher Minimum Wage
The Democratic presidential candidate doesn't get specific as she addresses a union gathering by phone.
by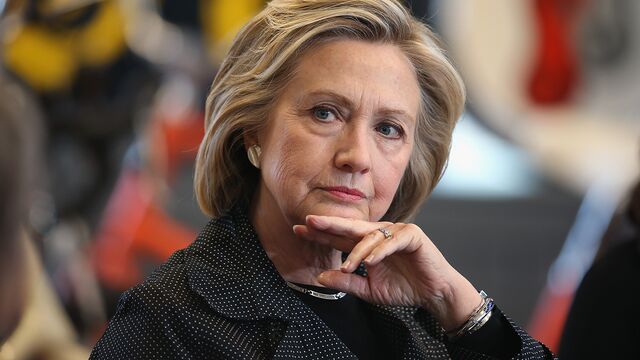 Hillary Clinton wants to see a boost in the minimum wage, and said as much over the weekend as she heaped praise on a group of fast-food workers who support a $15 hourly rate.
What she didn't say: Whether she supports raising the minimum wage to $15 from the current $7.25.
Clinton is at the tail end of the policy-focused yet vague first phase of her presidential campaign, during which she's spoken in support of general policy positions while holding back specifics. Her aides stress that her first two months of campaigning have been about hearing from Americans, and promise that detailed proposals and positions are on the way.
But as Clinton addressed the Service Employees International Union's Fight for $15 convention in Detroit by phone on Sunday, she hinted that she is on board with the union and much of organized labor. At the start of her brief comments, she thanked union President Mary Kay Henry for "giving me this chance to tell you all how much I support your movement."
Still, Clinton never specifically said she backs the $15 an hour minimum wage.
Also on Bloomberg Politics: Hillary Clinton: 'Stand Firmly' With Unions
"I believe fast-food workers and child care workers and home care workers and adjunct professors—all of you should not have to march in the street to get a living wage, but thank you for marching in the streets to get that living wage," she said, according to a transcript provided by her campaign.
"We need you out there saying loudly and clearly—no one, no one who works an honest job in America should have to live in poverty. We need you out there leading the fight against those who would rip away Americans' right to organize, to collective bargaining, to fair play," she continued. "No man or woman who works hard to feed America's families should have to be on food stamps to feed your own families."
Clinton is expected to begin filling in the details on minimum wage and about a dozen other economic issues over the summer, building a platform that will lead her into the fall's primary debates and beyond.
Supporting anything less than $15 an hour would create a point of friction since Vermont Senator Bernie Sanders and former Maryland Governor Martin O'Malley have already staked out that position. It could also prove problematic as Clinton courts labor and other groups that have also begun gravitating toward a $15 minimum wage. The Obama administration supports a $12 federal minimum wage.
While $15 seems like the right position to take for the Democratic primary, it may be too high a floor for some general election voters.
In late May, a New York Times/CBS News poll found that 71 percent of Americans  supported raising the federal minimum wage to $10.10.  When asked if the minimum wage paid by fast-food restaurants and other hourly employers should be raised to $15, support was weaker. Thirty-eight percent of those surveyed wanted to raise the rate to $15, while 56 percent of Democrats supported the idea.
Republican presidential hopefuls, meanwhile, range from saying the current federal rate is fine but unnecessary to wanting to abolish it entirely.
"We need to leave it to the private sector," former Florida Governor Jeb Bush said in March. "I think state minimum wages are fine. The federal government shouldn't be doing this." 
CORRECTION: An earlier version of this story did not fully describe the questions asked in the New York Times/CBS News poll about the minimum wage.
Before it's here, it's on the Bloomberg Terminal.
LEARN MORE