Governors Qualified To Be President? Vilsack Says Not Necessarily
The secretary of agriculture predicts a competitive Democratic race in his state's caucus voting.
by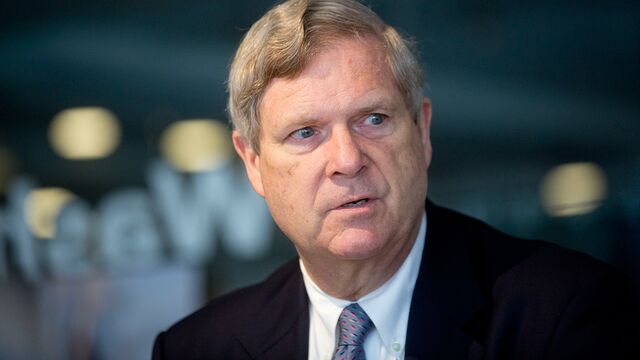 Being governor doesn't prepare you to be president, says two-term Iowa governor and one-time presidential candidate Tom Vilsack.
"The fact that you have been a governor doesn't necessarily mean that you fully appreciate and understand exactly what this job is," Vilsack, now a member of President Barack Obama's Cabinet, told Bloomberg reporters and editors Monday in Washington. "I leave this place with a much greater appreciation for the difficulty of that job, and much more interested in what people are going to do, rather than what they think they've done."
Vilsack, now the secretary of agriculture, took a decidedly different tack when he ran against then-senators Barack Obama, Hillary Clinton, and Joe Biden for the 2008 Democratic nod. Back then he highlighted his experiences as governor and likened his experience as an executive at the state level to those at the national level. "I've had the chance to talk with presidents, vice presidents, senior cabinet officials and so forth," he told National Public Radio in 2007. "I'm also in charge with 9,700 men and women who served in the National Guard."
Six years in Obama's cabinet have changed Vilsack's thinking. "In your own head you think, 'Well, there's a comparison there,'" the ex-governor said Monday. "And you come to gatherings like this and you say, 'Well, I was commander-in-chief of national guard troops.'" That, he said, is "fundamentally different than understanding the extraordinary complexity of all of the issues that a president has to take into consideration when dealing with his counterparts in the G-7, or dealing with China, or dealing with Russia."
Few 'prepared'
"There may not be any surefire way to do this, but the fact that you have done those things doesn't necessarily equate to you being prepared for this job," Vilsack added. "In fact, there are probably very few people that are quote-unquote 'prepared' for it."
Some current governors disagree. "I am convinced that the next president of the United States is going to be a governor—and it needs to be," New Jersey Governor Chris Christie told a Chamber of Commerce summit in October, arguing that Obama's performance as a first-time executive "has not been great."
Christie is one of several current or former governors already in the presidential race or lurking on the fringes. Among them are Florida's Jeb Bush, Wisconsin's Scott Walker, Ohio's John Kasich, Louisiana's Bobby Jindal, Arkansas' Mike Huckabee, Texas' Rick Perry, and New York's George Pataki on the Republican side.
On the Democratic, former governors Martin O'Malley of Maryland and Lincoln Chafee of Rhode Island have joined Senator Bernie Sanders of Vermont in challenging former senator and secretary of state Hillary Clinton for the Democratic nod.
Vilsack, whose state will host the first 2016 presidential contest, insisted a Clinton caucus victory isn't a foregone conclusion. "It's a slice of people that are more knowledgeable, more involved, more committed, and oftentimes right or left more so than the general public," he said of his former constituency. "This is going to be a competitive situation. And it's a good thing."
 (Alan Bjerga contributed reporting.)
Before it's here, it's on the Bloomberg Terminal.
LEARN MORE