Chris Christie's Financial Supporters Say Don't Count the Man Out Yet
Terrence Dopp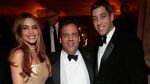 Some of Chris Christie's early financial backers are sticking it out, saying the New Jersey governor's troubles may make him a better candidate if he is chosen for the first Republican presidential debate.
The George Washington Bridge traffic scandal? Republicans will get over it, said Home Depot Inc. co-founder Ken Langone. Christie's high negative ratings? The more people get to know him, the more they'll like him, said New York investor Nick Loeb. His polling in the middle of a crowded field? The Nov. 8, 2016, election is a long way off, said Bobbie Kilberg, a Republican donor and fundraiser.
"Polls that run 10 percent on the high end and 2 percent on the low mean very little at this point," said Kilberg, president of the Northern Virginia Technology Council. "Chris being smack in the middle is just fine with me."
The support fuels Christie's determination even as newspaper editorials declare his race over before its official start. With the governor hovering near the bottom of the list of candidates who will make the cutoff for the debate and its opportunity for a breakout moment, his backers point to his record of thriving under stress.
So far, at least eight major Republican candidates have joined a field that may feature as many as 18 contenders. Only the top 10 as determined by an average of five polls will participate in the August forum in Cleveland.
While Christie has yet to announce a run, he's been to 14 states this year to meet voters, raise money and give speeches. This week, he's back in New Hampshire for a sixth time and will return to Iowa to discuss education.
Approval Ratings
Christie, 52, became a national figure during his first term with calls for employee-benefit cuts and lower taxes, and confrontations with detractors.
His approval surged after he led the state through the aftermath of Hurricane Sandy. After winning a second term in 2013, his ratings crumbled amid a sluggish recovery, record credit-rating downgrades and the intentional lane closings at the George Washington Bridge, which crippled the town of a mayor who failed to endorse him.
Three investigations found no evidence that Christie knew of the plot. The governor labored to shake it off, stumping the country as Republican Governors Association chairman. He set fundraising records and helped his party add two governorships to the 29 it held.
'Shared Ideas'
Phil Cox, a former RGA executive director who formed the America Leads super-political action committee in March to raise unlimited sums to support a Christie run, said his energy and ability to connect have allowed him to remain in the game.
"On the majority of issues, the Republican candidates for president will agree," Cox said. "What donors are looking for is the candidate who can sell our shared ideas to independent voters."
Kilberg, who donated $15,000 to the RGA last year and last month hosted an event that she said raised $175,000 for Christie's Leadership Matters for America PAC, said candidates in such a crowded field don't need an early lock on fundraising. Christie needs enough to get to the debates and campaign in early-voting states, she said.
"It's very clear why I'm backing Chris -- he's willing to take on hard public-policy issues, he's the most talented retail politician out there and the fact that what you see is what you get is all very appealing to me," she said.
Decision Time
During recent trips, Christie has outlined his positions on foreign policy, entitlements and economic growth. The specific plans distinguish him from the pack, Langone said.
Langone, 79, a donor to past Christie campaigns who supports Leadership Matters, said the governor needs to formally announce his intentions within the next month.
"When people know he's committed, that will be a big barrier down," Langone said in a June 1 telephone interview. "People will line up behind him strongly and more profoundly."
Should he run, Christie has his work cut out for him. In a Bloomberg Iowa poll, 45 percent of likely Republican caucus participants said they'd never support him. Only Donald Trump scored worse, with 58 percent.
Campaign Scandals
Donor Chris Vincze, chairman of TRC Cos., a Massachusetts energy and infrastructure consulting company, said the bridge affair was overblown. It pales in comparison to disclosures about Democrat Hillary Clinton's use of a private e-mail server and links to her family's foundation, he said.
"She's had two of them now and it's just assumed she's going to win the nomination," said Vincze.
Christie came closest to declaring himself a candidate on May 22, when he told the Southern Republican Leadership Conference in Oklahoma that members would never have to guess where he stands.
"I will fight with every ounce of energy I have to return America to prominence and prosperity at home, and to leadership around the world," he said.
Voters want candor, Langone said, and Christie "has that in spades."
Loeb, who donated to the PAC and is helping it raise money, said he met Christie in 2012 at the White House Correspondents Dinner, when the governor and Mary Pat Christie were seated next to him and actress Sofia Vergara, his former fiancée. Christie "blew him away" because he spoke like a regular guy, not a "robotic politician."
"For me to support a candidate, I have to actually like that candidate -- it doesn't matter whether they get good press or bad press," Loeb said. "We just need to get Chris in front of as many people as possible."
Before it's here, it's on the Bloomberg Terminal.
LEARN MORE