Barbara Bush Vows to Stay Out of 2016 Election, Mostly
But she says she'll stick up for her son Jeb.
by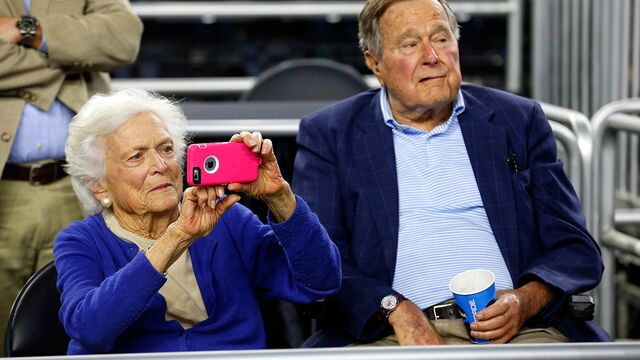 The matriarch of the Bush dynasty says she wants no role in the 2016 presidential election, though she did seem to leave herself just a tiny bit of wiggle room.
"I've promised that during this next campaign season, I will not talk," former first lady Barbara Bush said Monday on NBC's Today show, the day she celebrated her 90th birthday. "I won't give any interviews."
Her son Jeb is expected announce on June 15 that he intends to run for the Republican nomination and become the third Bush to win the White House. Though she told CNN in 2013 that "I really don't" want Jeb to run for president because "we've had enough Bushes," she's now behind him.
"I'm going to stop voicing my opinion and sticking up for things I think are right—except my boy," Barbara Bush said, referring to Jeb. "I think he's brilliant."
One person who wished Barbara Bush a happy birthday was Bill Clinton, the man who defeated her husband in his re-election bid and whose wife, 2016 Democratic front-runner Hillary Clinton, is a chief obstacle to her son's ambitions. 
The last line of a tweet is an apparent reference to a joke by Bush family friend Andy Card that Bill Clinton and George H.W. Bush had bonded so closely after their presidencies that Bush's children "think they got this other brother named Bill Clinton."
Before it's here, it's on the Bloomberg Terminal.
LEARN MORE