Jeb Bush All But Says He'll Kick Off Presidential Campaign and Head Straight to N.H.
The former Florida governor says he will head straight for the Granite State following his June 15 announcement.
by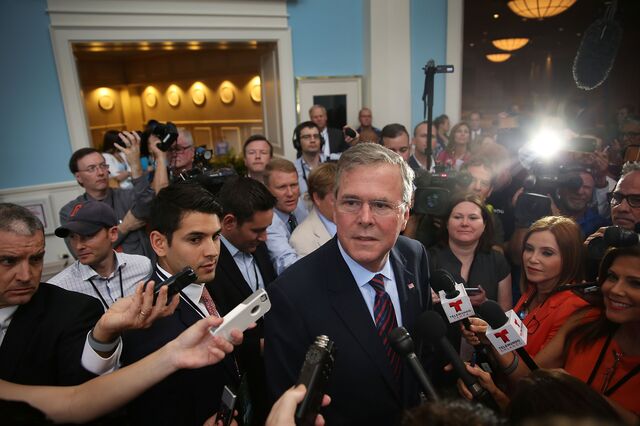 To say there's not much suspense as to whether Jeb Bush will run for president may be an understatement. 
Bush once again telegraphed his plans to jump into the presidential pool during an impromptu appearance in New Hampshire on Sunday. Chapping with customers at the Breaking New Grounds café in Portsmouth, on the state's Seacoast, Bush referenced the June 15 event in Miami, Florida, where he is expected to announce his entry into the crowded Republican field, NH1.com reported
"I'll make my announcement and in all likelihood I'll be in New Hampshire that night, late, and then we'll start the day, the first day of a possible campaign. I'll make the announcement a week from Monday but my expectation is to be up here," Bush said. 
Also on Bloomberg Politics: Jeb Bush Facing Critical Two-Week Stretch 
Bush will squeeze in a week-long trip to Poland, Germany, and Estonia before making more campaign stops in Iowa, New Hampshire, and South Carolina ahead of the event planned at Miami Dade College's Theodore Gibson Health Center. Immediately after revealing his decision on whether or not to attempt to become the third President Bush, the former Florida governor will head back to the Granite State. 
"This is the first in the nation primary. It has a disproportionate say in weeding out the field, for sure. So it's really important. And it a great place to campaign for someone like me," Bush said Sunday. "I've got a passion for service. I get to tell my story. People can challenge it. This is the way to campaign. Get outside your comfort zone. I don't think we should be campaigning in little protective bubbles and in New Hampshire you can't do that. You have to be out amongst people." 
A Bloomberg Politics/Des Moines Register poll of likely Republican caucus goers found Bush in a tied for second place the New Hampshire. 
CORRECTION: An earlier version of this story said Bush was tied for third place in New Hampshire. 
Before it's here, it's on the Bloomberg Terminal.
LEARN MORE