Rand Paul on Transgender Rights: 'Government Shouldn't Ask About Your Personal Life'
The Kentucky senator's libertarian streak makes him reluctant to condemn Obama policies.
by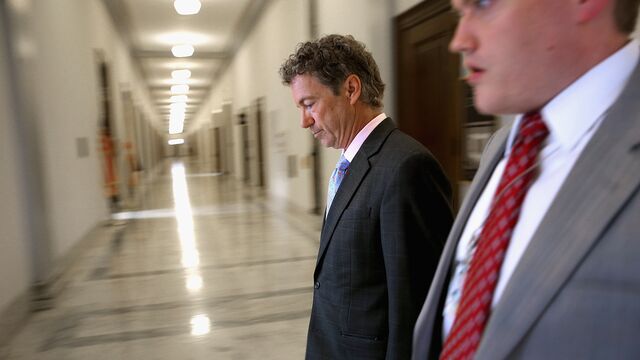 A news week that started with Caitlyn Jenner's debut in Vanity Fair ended with another transgender rights milestone. On Thursday, the United States Air Force announced that it would no longer discharge recruits with gender dysphoria, and that "identification as transgender, absent a record of poor duty performance, misconduct, or a medically disqualifying condition, is not a basis for involuntary separation."
Republican candidates for president did not exactly sprint for the microphones. The two veterans in the contest, South Carolina Senator Lindsey Graham and former Texas Governor Rick Perry, served in the Air Force Reserve and Air Force, respectively. Neither commented on the new ruling; neither has said much, generally, on the frontiers of LGBT policy.
On Friday, I asked Kentucky Senator Rand Paul if, as president, he'd continue the Obama administration's approach to transgender rights. Since December, the Department of Justice has interpreted Title VII of the Civil Rights Act to include gender identity.
On the question of the Justice Department's move, Paul didn't exactly endorse the policy but, interestingly, he didn't exactly repudiate it either. He speculated that government could bar discrimination, but wondered about the legal implications.
"I think that government should not ask about your personal life," said Paul. "I would make that a rule—government shouldn't ask about your personal life when you apply to anything. It would be wrong for the government to discriminate based on anything like that. But then, I don't know what that exactly means. You get into [questions like] can you sue over it? The government ought to be as neutral as possible."
Also on Bloomberg Politics: Lindsey Graham on Caitlyn Jenner: 'She Is Welcome in My Party'
Asked about the Air Force's new transgender rule, Paul continued speculating about a way the law could be fair without getting into the thorniness of identity.
"The thing that's weird about this was that there was a time when it was nobody's business," he said.
New Hampshire state Senator Andy Sanborn, a supporter of Paul who sat in for the interview, suggested that this was the defunct "Don't Ask, Don't Tell" policy.
"We had rules, and these rules went back to the beginning and could be applied in a non-discriminating way," said Paul. "It's behavior. It's fraternizing. No matter what it is, you're not supposed to do it in the barracks, because that disrupts discipline. So it wouldn't have to be that specific. You'd still have rules about it." 
Paul had not quite endorsed either of the new non-discrimination policies; as he finished, he suggested that the subject might be a little overheated.
"I don't know why we all have to talk about our sex life," he said. "I'm just not interested in other peoples'—I never go to anybody's house and everybody wants to talk about it. Why do we have to talk about it?"
Before it's here, it's on the Bloomberg Terminal.
LEARN MORE