Obama Leads Mourners at Funeral for Beau Biden, Son of Vice President
Margaret Talev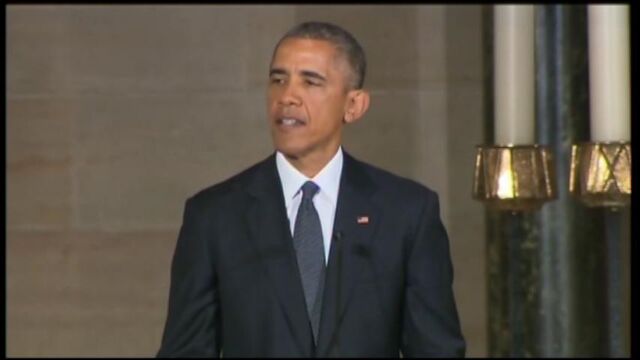 President Barack Obama, Bill and Hillary Clinton and Coldplay frontman Chris Martin were among about 1,000 mourners who gathered in Delaware for the funeral service for Beau Biden, the son of Vice President Joe Biden.
Delivering the eulogy, an emotional Obama on Saturday praised the younger Biden for embodying dignity and integrity who mirrored the attributes of his father while representing an "upgrade -- Joe 2.0."
"Beau Biden was an original. He was a good man. A man of character. A man who loved deeply and was loved in return," Obama said at St. Anthony of Padua Catholic Church in Wilmington. A private burial was to follow.
The cruelty of life is sometimes "a matter of fate, or God's will," and thus beyond comprehension, Obama said. "Beau Biden brought to his work a mighty heart. He brought to his family a mighty heart. What a good man. What an original. May God bless his memory."
Bagpipes played earlier as pallbearers carrying the casket bearing Biden, the former Delaware attorney general, entered the church. The rising Democratic political star died of brain cancer on May 30 at age 46.
Grief Stricken
The Biden family followed, including Beau Biden's widow, Hallie, and two children as well as the visibly shaken vice president, eyes covered by his trademark aviator sunglasses, and wife Jill Biden, who raised her stepson after Biden's first wife and daughter died in a car accident in 1972.
Among the congressional delegation present were Senate Majority Leader Mitch McConnell, a Kentucky Republican, Democratic Leader Harry Reid of Nevada and House Minority Leader Nancy Pelosi of California. Many of Obama's Cabinet members and other administration officials also attended.
Martin, lead vocalist for the band Coldplay, volunteered to perform after learning, through the Biden children, Natalie and Hunter, and a family friend, that Beau Biden had been a fan, the White House said in a statement.
Legacy Abides
Playing an acoustic guitar Martin performed "Till Kingdom Come," a hidden track on the band's 2005 X&Y album: "Steal my heart and hold my tongue/I feel my time, my time has come."
General Raymond Odierno, chief of staff of the U.S. Army, awarded Beau Biden the Legion of Merit medal on Saturday. Biden served in Iraq in 2008 and 2009 with the Delaware Army National Guard's Judge Advocate General's Corps.
"His legacy will live on in the thousands he touched," Odierno said, describing Biden as "selfless to a fault."
The most deeply personal moments came from Beau Biden's younger siblings -- sister Ashley, 33, and brother Hunter, 45.
"My brother is not defined by his extraordinary resume, he is defined by the quality of his character. The boy, the man who always held you close, the one who always made you feel safe," Hunter Biden said.
Holding Hands
Ashley Biden recalled how in first grade she drew a picture of herself, holding hands with her big brothers, to illustrate what made her happy. He was "the captain of our lives," she said of Beau.
Hunter Biden told the story of how, when the pair was hospitalized after the car crash that killed their mother, he woke up to find Beau holding his hand.
"Beau's was the hand that reached for yours before you even had to ask," he said. "There are thousands of people telling those stories right now. Telling the same story about when Beau Biden held their hand. My only claim on my brother is that he held my hand first ... I know that his hand will never leave mine."
Before it's here, it's on the Bloomberg Terminal.
LEARN MORE