Why Joe Biden Wanted Barack Obama to Deliver His Son's Eulogy
Aides say the president and vice president have a bond that's beyond politics.
by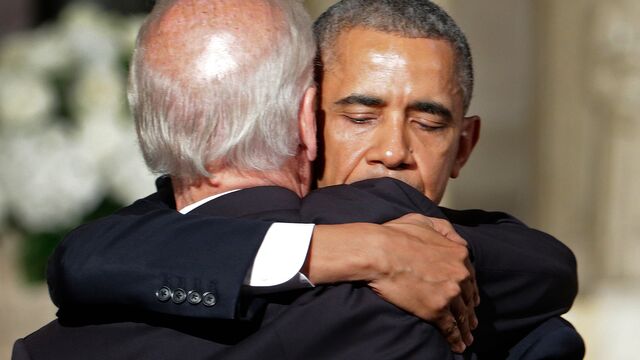 Vice President Joe Biden and President Barack Obama went through the fires together: two presidential campaigns, economic collapse, war, terrorism, destabilization of the Arab world, and societal change that spawned the Tea Party and gay marriage waves simultaneously.
But aides say it is the men's shared experience with personal grief, and an unexpected bonding of their wives, daughters, and grandchildren, more than their tests as officeholders, that have turned a political partnership between two men separated by race, age, and temperament into a deep, if mostly unsung, friendship.
That's a dynamic many Americans saw Saturday, when Obama delivered the eulogy for Biden's son Beau, a husband, father, veteran, and rising political star who seemed destined to carry on his father's legacy before his death from brain cancer on May 30 at age 46. Obama called Biden on the night Beau died. By the time the call ended, he had been tasked with a humbling assignment: To say the final words about Beau that the vice president and his wife, Jill, are too grief-stricken to utter.
Obama is often caricatured as aloof and professorial, with a poorly concealed arrogance, while Biden is Biden, prolix, comic both intentionally and inadvertently, self-effacing and engaging to a fault. Given these differences, it's easy to assume that their declarations of mutual affections are for show.
At the Biden funeral, however, Obama let his emotions rise to the surface as he publicly embraced his grieving vice president before a church full of mourners, including former President Bill Clinton; his wife, former Secretary of State Hillary Clinton; Senate Majority Leader Mitch McConnell, a Kentucky Republican; and Senate Minority Leader Harry Reid, a Nevada Democrat. Obama said he felt so welcomed by his vice president's large Irish clan that he considered himself an honorary member.
Promising that he and his wife would be there to comfort the vice president and his family, Obama said he was giving his word "as a Biden."
Ron Klain, Biden's former chief of staff, who later served as Obama's coordinator on the administration's response to the Ebola threat, said the two men long ago established a special intimacy. "The president . . . has this reputation for being cold or distant—but he isn't," Klain said. "For the people in his orbit, the people he has a chance to get to know, he has a real sense of family," and the Bidens "are part of that. I think it's a loss that he feels personally." Ted Kaufman, Biden's close friend and longtime Senate aide, said that "the president has been incredibly supportive, in every possible way, during this."
And an aide close to both men, who spoke on condition of anonymity, said Biden wanted Obama to deliver the eulogy because he felt that Obama would know instinctively what the family would want others to know about Beau. The aide said the men "understand each other on a deep level based on their shared experience with loss and the deep void that creates."
"People think of them as the president and vice president of the United States, but they're human, and they're in unique positions where there are very few people who can appreciate the nature of their responsibilities," said Valerie Jarrett, a senior White House adviser and one of the Obamas' closest friends. "It is far more than just a professional relationship; it is a very close friendship," Jarrett said. "It has strengthened and grown over time. They certainly have shared their life experiences with one another, both painful loss and extraordinary happiness, just as all good friends do."
Obama's grandmother, who had helped to raise him and to whom he was extremely close, died on the eve of his 2008 election. Then Biden's mother, to whom he was devoted and whom he often invokes in his public comments, died in 2010 at age 92. Obama consoled him in turn and attended her funeral. Both men also had experienced deep loss years earlier. Biden's first wife and daughter were killed in a car accident in 1972 weeks after he was elected to the U.S. Senate. Beau and Biden's other son, Hunter, had also been in the accident but survived. Obama's mother had died of ovarian cancer in 1995, and as Obama promoted his health-care overhaul as president he recalled feeling broken-hearted about her struggle in her dying months to navigate the health insurance system.
At their regular lunches and in other private settings over a period of years, Biden confided his fears about his son's health to Obama. Beau had what was determined to be a mild stroke in 2010; at the time, there was no indication of cancer. He was diagnosed with brain cancer in 2013, had a lesion removed, and went into remission. Then the cancer came back, and when Beau entered Walter Reed last month, it was clear it was terminal.
Obama had gotten to know Beau Biden on his own, during time together during both campaigns. He also saw him on a visit to Iraq, while the vice president's son was stationed there. Their embrace was memorialized in photos. "The president respected Beau a lot as a rising star in our party, as a person who had taken on some great fights and done a great job and served our country in Iraq," Klain said. "The president independently had a relationship with Beau and a great deal of respect for everything he stood for and had fought for."
Biden and Obama also bonded through their families. Michelle Obama and Jill Biden had teamed up to work on projects for military veterans and their families. Sasha Obama and Hunter Biden's daughter, Maisy, attended private school at Sidwell Friends and played on the same basketball team. In the midst of this week's services for Beau, Maisy and Sasha were graduated from middle school on Thursday evening. The vice president and his wife came back from Delaware to Washington to attend, as did the Obamas.
Earlier this year, on St. Patrick's Day, Biden addressed a group in Pennsylvania and recounted how he had felt when researchers discovered that his own great-great grandfather and Obama's great-great-great grandfather each had been shoemakers in Ireland who emigrated within five weeks of one another.
"I thought to myself, isn't that the Irish of it," Biden said. "All their dreams, could they ever [have] dreamed 160 years later, two shoemakers' great-great grandsons would be sworn in as president and vice president of the United States of America."
At the time, Biden had been confronting his fears about his son's prospects. What he told the audience was this: "There's an old Irish toast that says, may there be generations of children, on the children of your children."
Before it's here, it's on the Bloomberg Terminal.
LEARN MORE