Montana Woman Alleges Dennis Hastert Abused Her Brother
The former speaker is due in court next week on charges that he violated banking regulations, allegedly to cover up misconduct.
by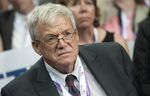 A woman from the Illinois town where Dennis Hastert was once a teacher and wrestling coach says the former House speaker sexually abused her brother when he was in high school and Hastert was a teacher.
A woman identified by the Associated Press as Jolene Burdge told ABC's Good Morning America that Hastert abused her brother, Steve Reinboldt, "all through high school" in the 1960s and '70s in Yorkville, Ill. Hastert has been charged with violating banking regulations "to compensate for and conceal his prior misconduct," the Department of Justice said.
Burdge, who now lives in Montana, told the AP Thursday that she was interviewed by the FBI in mid-May about her allegations. An FBI spokeswoman said Friday that the agency would not say if it had interviewed Burdge or whether it was investigating her claims.
Hastert, who coached the wrestling team that Reinboldt managed, "damaged Steve, I think more than any of us will ever know," she told ABC, who identified her only by her first name.
According to news reports, Hastert was being blackmailed to conceal a case of sexual abuse during Hastert's time as a teacher. That alleged victim appears to be distinct from Reinboldt, who died in 1995.
Burdge described Hastert as a "father figure" to her brother. ABC said Hastert called Reinboldt a "great, right hand man" in a yearbook note. 
Steve Reinboldt hid the alleged abuse for years, saying no one would believe him, his sister said. Hastert left the school in 1981. He was elected to Congress in 1986 and became speaker of the House in 1999, and stepped down in 2007.
Hastert is due in court next week to answer the banking charges. He did not speak to ABC. He has no counsel listed on court filings, but Barry Levine, a criminal defense lawyer and former lobbying colleague of Hastert whom media reports say may represent him, did not respond to requests for comment.
Before it's here, it's on the Bloomberg Terminal.
LEARN MORE