The Greatest Hits of Politwoops, the Congress Watchdog Twitter Killed
After three years, the site was blocked from Twitter's API.
by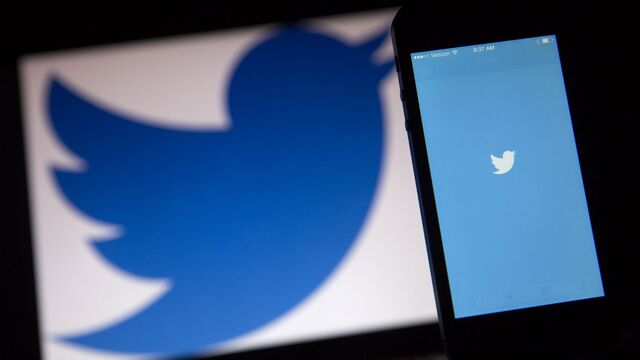 For three years, Politwoops has been capturing and posting deleted tweets from politicians. On Thursday, Gawker reported that Twitter was blocking the service from its API, effectively killing the project from the government transparency advocates at the Sunlight Foundation.
A Twitter spokesperson today stood behind the decision, citing the company's developer agreement in a statement to Gawker. 
From the very beginning, the idea of a site holding politicians accountable for their tweets was popular, and over the years the tool has captured both embarrassing social media mistakes and instances of hypocrisy. Here are some of Politwoops greatest hits. 
An ill-advised tweet about child migrants, rediscovered
In the midst of the child migrant crisis, when the U.S. saw a spike in the number of unaccompanied children crossing the U.S. border, several states struggled to find places to house the apprehended youth. Arizona state Representative Adam Kwasman, a Republican, used a passing school bus to share his thoughts on the situation. "Bus coming in. This is not compassion. This is the abrogation of the rule of law," he tweeted, along with a photo of the bus.
As it turned out, the bus was full of American children going to a YMCA event. After two hours—and an interview with a reporter—Kwasman deleted the tweet.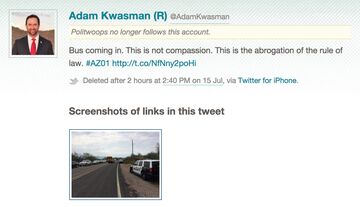 Attempts to disappear celebrations about Bowe Bergdahl's return, canceled
In June 2014, President Obama announced that he had negotiated the release of Army Sergeant Bowe Bergdahl, who had been held captive for five years, in exchange for five Taliban prisoners. The terms of his release, along rumors that he had deserted and the fact that Obama hadn't alerted Congress that he was releasing five prisoners 30 days in advance—as required by law—quickly politicized the story. Lawmakers who'd tweeted praise of Bergdahl and positive messages about his return soon deleted the messages, as Politwoops showed.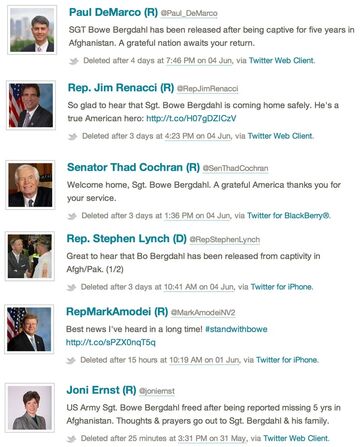 Ted Cruz's plan to sweep a tiger rug under the rug, foiled
While Politwoops occasional reveals something about the hypocrisies of partisan politics, it also give us a better look at why politicians are so boring: jokes rarely turn out well.
In May 2014, Senator Ted Cruz tweeted a photo of himself and Senator Mike Lee with a tiger skin rug. "Did a little shopping for the office with @SenMikeLee in Houston today," the deleted tweet read. 
As a Cruz spokeswoman told The Washington Post, the tweet was a joke—he had no intention of buying it—but the humor didn't go over well with animal rights groups like PETA who pointed out that tigers are an endangered species. Cruz deleted the tweet a week later.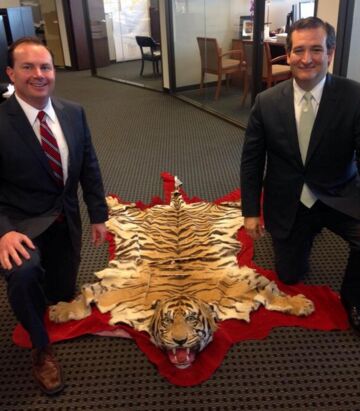 Before it's here, it's on the Bloomberg Terminal.
LEARN MORE