Rick Perry Makes Forceful Case for Second Presidential Bid
Analyzing the substance, style, and overall impact of the Republican's presidential campaign launch.
by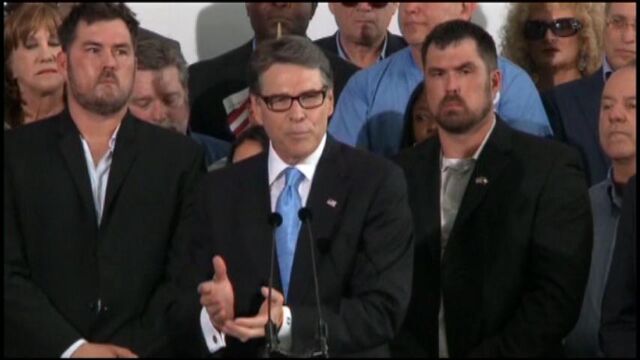 Style: With a becoming swagger and sturdy conviction, presented the rationale for his candidacy. Demonstrated a good feel for his written text, flowing thoughtfully between conversational and fired up. Offered a strong, crisp bio to start. Handled intense perspiration in the Texas heat like a pro. Staging was unusual: a crowd packed on the dais behind the candidate, who was closely flanked by the identical twin Luttrell brothers, heroic Navy SEALS, whose non-stop stoic scowls occasionally proved distracting.
Substance: Called for lower corporate tax rates, a freeze on regulations, rollbacks of ObamaCare and Dodd-Frank, approval of the Keystone pipeline and energy exports, and the rescission of any nuclear deal with Iran—all concrete ideas, but without specific details or originality.
Best moment: Sent the crowd wild with the unyielding yet upbeat declaration that the resilient nation that came through the Civil War, the Great Depression, and Jimmy Carter can survive the Obama years.
Worst moment: Heartfelt and touching effort to pay homage to the veterans on stage beside him meandered to no dramatic payoff as he closed his speech.
Overall: Confident, aggressive, and tough—the very model of a modern major Lone Star State governor. And every bit the man Bill Clinton dubbed "a good looking rascal." If this version of Rick Perry showed up in 2012 and sustained, he would have gone a lot farther. A strong kickoff, but miles to go to repair the lingering damage and skepticism from his first faulty effort.

Note: The overall grade is not an average of the style and substance grades, but takes into account other aspects of the announcement, such as staging and crowd reaction.  In addition, a candidate's overall grade reflects the degree to which the candidate's standing in the race is improved by the event and performance.
Before it's here, it's on the Bloomberg Terminal.
LEARN MORE