How Rick Perry Is Playing the Veterans' Card
An injured veteran who credits the former Texas governor with helping him recover hits the campaign trail.
by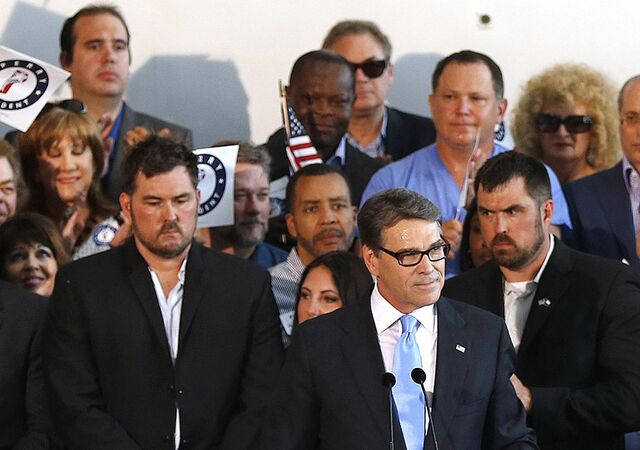 Back in April, when his presidential campaign was assured but not yet official, Rick Perry's YouTube account published a video about "the story of Marcus Luttrell." It was targeted to people who didn't need to be told about Luttrell. The Navy SEAL's story of battle in Afghanistan had been adapted into the book then film Lone Survivor. He'd rebuilt his life in Texas and started a Lone Survivor charity.
Conservatives knew that, but Perry had to tell them that he, too, knew Marcus Luttrell. The video was keyed off of a Luttrell speech that reporters were invited to cover -- at the Ronald Reagan Library, no less -- where they could hear the hero veteran talk about his friendship with Perry.
"Thanks for being my best friend and my father figure," Luttrell said. "That's why you're the godfather to my kids, man."
It said something about Perry's declining stock that the media needed to be told about Luttrell. Perry had talked about the relationship whenever it seemed fitting. Luttrell, who sought out Perry in 2007 after returning from war, gave the governor credit for turning around his life. As Phil Rucker reported this year, Luttrell owed the timing of his back surgery to Perry. He spent restorative time talking and fishing with Perry. He called him a father figure. He went on to campaign for Perry in the waning days of his 2012 presidential bid.
Today, when Perry launched his 2016 campaign for the White House, Luttrell stood right next to him in the punishing heat of an air hangar. And as Sean Davis recorded for The Federalist, a number of journalists had no idea who this guy was. Reporters for The Nation, The Huffington Post, and ThinkProgress wondered on Twitter about the identity of the guys with goatees and blue blazers creating a dour-looking diptych in the tight shot of Perry. (Answer: Luttrell and his brother.)
Meanwhile, Glenn Beck's news site The Blaze was putting up a video of Luttrell's reaction to being called a "hero" by Perry.
The mass confusion about Luttrell could be explained without malice. His identity was not shared with TV watchers; Perry did not indicate him until late in the speech; a busy press corps could hardly be expected to know who the candidate polling 11th in Iowa was bringing on campaign trips. 
Yet the accidental culture war emphasized one of the few strengths Perry has in a new campaign -- one that he took too long to exploit in 2012. He had been a captain in the United States Air Force. Only he and South Carolina Senator Lindsey Graham, an officer in the Air Force Reserve, would come to the GOP debates with any military experience. 
In a campaign of aging boomers and rising Generation Xers, the military ties -- and their heavy cultural associations -- can matter. The 2012 election was the first since 1948 where the Republican Party did not nominate a veteran. (For all the trouble it caused him and Dan Rather, George W. Bush did serve in the Air Force Reserve.) In 2012, the only other Republican candidate with a military record was former Texas Congressman Ron Paul, whose campaign frequently cited his donations from the troops to debunk any charge that he was weak on foreign policy. If that was a non sequitur, nobody could say so without criticizing the troops.
As John Kerry can attest, the veteran card does not trump everything, but it trumps many things. In 2014, now-Senator Tom Cotton's first ad for his Arkansas campaign co-starred a former drill sergeant. When the doomed Senator Mark Pryor tried to portray Cotton as an elitist, Cotton's defenders asked where a dynast Democrat got off attacking a veteran. That same year, Iowa Republicans blistered Democratic Representative Bruce Braley for missing hearings of the Veterans Affairs committee, and played up now Senator Joni Ernst's service in the National Guard. When Braley criticized Ernst's readiness to send troops into Iraq, she shut him down: "My boots were on that ground that is now held by ISIS."
Perry did not serve overseas, but he has friends who did, and they will go wherever they can for him. After the announcement speech, Perry's campaign announced his schedule for Monday, when he will be visiting South Carolina. In the morning, there would be a "special event with Gov. Rick Perry & retired US Navy SEAL Marcus Luttrell" at the South Carolina Military Museum. In the afternoon, there would be a "Veteran Town Hall Meeting with Gov. Rick Perry & Ret. US Navy SEAL Marcus Luttrell," at the decommissioned U.S.S. Yorktown.
If  there's any doubt about Perry's strategy, consider this: According to TV network exit polls, 21 percent of the voters who cast ballots in South Carolina's Republican primary four years ago were veterans. 
Before it's here, it's on the Bloomberg Terminal.
LEARN MORE