Five Things to Know About Rick Perry's Indictment
His hair and his "oops" moment aren't his only distinctions.
by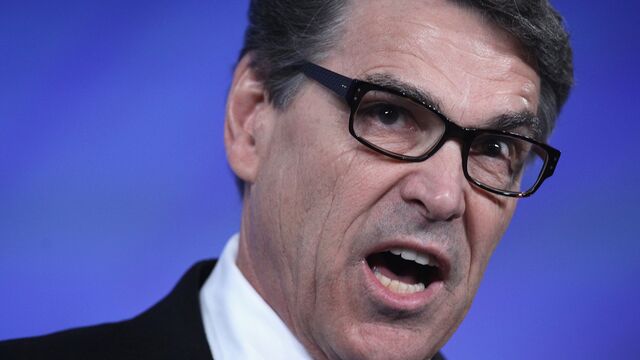 Rick Perry, the latest Republican expected to toss his hat into the 2016 presidential contest, is best known for two things: Being the longest-serving, best-coiffed governor of the second-largest U.S. state, having ended a 14-year stint as Texas's "Governor Goodhair" in January; and an infamous "oops" moment, when in the space of 53 agonizing seconds in November 2011, Perry forgot during a televised debate the third of three federal agencies he'd abolish if elected president.
Now, Perry has another claim to fame: He's one of the few people to formally run for president while under indictment. Here are five things to know.
1. He's accused of abusing his power.
Perry, 65, faces two abuse-of-power charges for threatening in 2013 to veto funding for a public-corruption task force if Democratic rival Rosemary Lehmberg, the county district attorney in charge of the unit, didn't resign following a humiliating drunken driving conviction. She didn't, so he did.
A citizens' watchdog group filed a criminal complaint, saying it smelled like an attempt to strong-arm an elected official. Perry was indicted in August and has so far failed to persuade a visiting state judge to dismiss the charges on technicalities.
2. Perry maintains his prosecution is an attempt to derail his presidential bid and criminalize Texas hardball politics-as-usual.
Perry not only forcefully denies doing anything wrong, he's publicly vowed he'd do it again. He contends he was justified in yanking the ethics unit's budget after losing confidence in its leader's judgment. Besides, as a bipartisan group of legal scholars told the court: The Texas constitution gives the governor absolute authority to veto any budget item for any reason, and the U.S. Constitution gives him the right to say anything he wants about it. State law also gives lawmakers legislative immunity for comments they make during routine political horse trading.
3. Special prosecutor Michael McCrum insists no one is above the law and claims he has unspecified proof that Perry went too far.
"Coercion crosses a line," McCrum's said, landing Perry firmly in criminal territory outside the protection of the First Amendment. He points to former Illinois Governor Rod Blagojevich, who failed with a similar protected-speech argument and was convicted for lying about his attempt to sell the Senate seat vacated by then-President-elect Barack Obama.
McCrum amended Perry's indictment in February to address flaws the judge said might lead to dismissal if the prosecutor couldn't explain how Perry's use of his official veto was a crime. An underlying allegation by the left-leaning watchdog group Texans for Public Justice, which isn't spelled out in the papers, is that Perry tried to eliminate the ethics unit to block its investigation of political backers who got state grants through a cancer-research program he sponsored.
4. Perry has friends in high places, who may help toss the case before it gets to trial.
While the trial judge has rebuffed Perry's claim of a "right not to be tried," a state appeals court will soon decide if his constitutional challenges can end the prosecution before a trial is scheduled. One of the three appellate judges making that call used to work as Perry's lawyer; in 2003, Perry named him to the bench.
If Perry's case  makes it to the Texas Supreme Court, he's got that base covered, too, with a retired chief justice riding shotgun on his defense team. Judicial races are partisan fights in Texas, where no Democrat has won statewide office in more than 20 years and Perry, by virtue of his longevity in office, has appointed more Republicans to state jobs than almost any predecessor.
5. Perry isn't letting the indictment slow him down.
Except for two defiant televised news conferences after court appearances, Perry's left the legal wrangling to his lawyers. Instead, he's barnstormed early-voting states in search of voters and campaign cash, making good on his promise to be better prepared for his second White House run than he was his first. He's even embraced his inner-biker outlaw by swapping his customary Harley for a wounded warrior's bike in a charity ride this weekend in Iowa.
Before it's here, it's on the Bloomberg Terminal.
LEARN MORE