Boehner, Pelosi Spar Over Rounding Up Votes for U.S. Trade Bill
Billy House and Carter Dougherty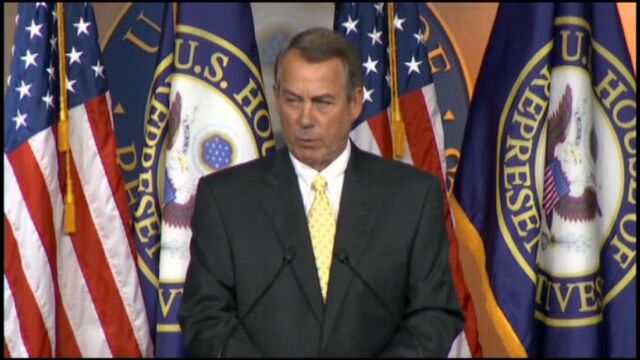 Republican House Speaker John Boehner and the chamber's Democratic leader are both saying it's up to someone else to round up enough votes to pass President Barack Obama's fast-track trade proposal.
"It's absolutely the speaker's responsibility," said House Minority Leader Nancy Pelosi, a California Democrat, during a news conference Thursday in Washington. "He has the majority and it's his responsibility."
At a separate Capitol news conference, Boehner said, "I've been meeting with members over the last few days. I may continue to meet with members. And talked to the president yesterday."
"He's got some work to do, too," said Boehner, of Ohio, referring to Obama.
Also on Thursday, Ways and Means Committee Chairman Paul Ryan of Wisconsin, who supports Obama's trade agenda, told reporters, "Undecideds are falling in the right way."
Trade promotion authority, passed by the Senate in May, would let Obama submit trade agreements to Congress for an expedited, up-or-down vote without amendments. The president has said he wants to complete a 12-nation Trans-Pacific Partnership and send it for approval under that procedure.
Boehner suggested the measure will come to the House floor this month, and with opponents and supporters crossing partisan lines, the vote-count watch is on.
Most Republicans are backing Obama, who says the trade measure would help U.S. workers and set rules for the global economy. Many Democrats remain stung by the 1994 North American Free Trade Agreement, which labor unions blame for a decline in U.S. manufacturing jobs.
217 Votes
With two House vacancies, there are 433 members -- 245 Republicans and 188 Democrats. If all members vote, it would take 217 votes to pass the trade bill, H.R. 1314.
Two House aides said last week that informal vote counts showed more than 200 Republicans supporting the measure and about 25 House Democrats prepared to vote yes -- enough for a clear majority. The Republican and Democratic aides sought anonymity to discuss the measure in advance of a vote.
In addition, House Republicans and members of the Obama administration in recent days have been expressing more confidence the trade promotion authority will pass. Still, pre-vote commitments aren't always the same as actual votes.
Pelosi said during the news conference, "The speaker should be able to deliver 200 votes," pointing to the large Republican majority he controls.
Republicans can rely on about "a dozen and a half" Democrats who say they will support the bill, and perhaps more, she said.
'Safe Number'
Pelosi said 200 Republican votes would be a "safe number, a little safety in numbers, in case somebody doesn't show up that day."
Ryan, during his press briefing, said "We're not quite there yet. We're picking up votes every day." Noting that a year ago some predicted that 50 Democratic votes would be needed because of a shortfall in Republican support, he said, "we won't need that many."
Democrats will "have to deliver more than they have now. But they have a credible amount," Ryan said. "The administration is working the phones pretty hard."
Many Democrats oppose a Republican proposal to reduce Medicare funds to help pay for trade adjustment assistance, a separate plan to help workers displaced by trade deals.
Boehner suggested that could be worked out. Asked whether the vote would occur in June, he said, "Listen, if we don't get it done in June, then I don't know why you think we can get it done in July. We need to get this finished."
So, that means the vote will happen?
"We're going to get it done," Boehner said.
Before it's here, it's on the Bloomberg Terminal.
LEARN MORE