The Poll Numbers Hillary Clinton and Democrats Should Really Be Worrying About
How the country views the current president could ultimately have the greatest bearing on the 2016 race.
by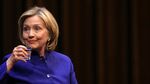 The political terrain, the quality of the two party's respective candidates, and the campaigns they run will decide the 2016 presidential contest. Higher presidential election year turnout and changing demographics—in which groups that perform well for Democrats are growing as a proportion of the electorate and groups that perform well for Republicans are shrinking as a proportion of the electorate—help the Democrats. In addition, some advantages with electoral college math and a general movement in the country toward more liberal attitudes on gay marriage and the environment all give Democrats confidence that the general terrain in 2016 will be to their advantage.
When is comes to judgments about potential or likely nominees, with the release of polls yesterday by ABC News/Washington Post and CNN, a lot of attention was paid to Hillary Clinton's weakening favorability ratings and lower assessment of her on some key traits. As we discussed yesterday, those changes, especially among independents and on issues of empathy, are worth keeping an eye on.
That said, in addition to the political terrain and candidate traits, there will be another fundamental factor that will have a huge impact on the outcome, the general political environment—voter attitudes on what political scientists dub, "the nature of the times." And, here, the survey data that may be most important and of most concern to the Clinton campaign are questions that don't include her name and, on which she and her campaign have virtually no control.
Ultimately, Clinton's fate (or any Democratic nominee) will be tied to President Obama and whether voters want a third straight term of a Democratic president. Obama's job approval is under water at 49 percent disapprove and 45 percent approve in the recent ABC News/Washington Post poll and 52 percent disapprove and 45 approve in the recent CNN study. The ABC News/Washington Post poll continues to measure significant economic angst and the CNN poll has a majority of American indicating that they think the country is off on the wrong track.
While there is good news for Democrats in the likely composition of the presidential electorate and how the states line up, these pessimistic assessments are surely of concern to Brooklyn and point to a competitive 2016 contest. There will be lots of candidate and campaign factors on which we will focus over the next 17 months. Still, Hillary Clinton, in particular and Democratic presidential ambitions, in general, are inseparable from assessments of Barack Obama. Ultimately, attitudes about the current president's performance will matter more than attitudes about a former president's foundation.
Before it's here, it's on the Bloomberg Terminal.
LEARN MORE