The Political Logic Behind Hillary's Horrible 'Pantsuit T-Shirt'
When it comes to campaign fashion, as the Obama campaign learned in 2008, kitsch is king.
by

This story has been updated.
By at least one metric—fashion—Hillary Clinton's campaign appears to be off to a terrible start. Last week, Twitter was abuzz with pics of the "Hillary Pantsuit T-Shirt," a fashion travesty currently selling for $30 a pop on her campaign website.
Of course, no one would don a pantsuit T-shirt expecting to look beautiful—the purpose is entirely ironic. But behind the tacky campaign merchandise lies an economic and political strategy, pioneered by the Obama reelection campaign, which Clinton is imitating.
In 2012, at the behest of Vogue editor Anna Wintour, Obama's campaign manager, Jim Messina, agreed to produce an Obama fashion line that eventually came to include everything from Tory Burch handbags ($75) to Thakoon Panichgul scarves ($95). Although this drew withering scorn from conservatives, Wintour convinced Messina that selling products beyond the standard T-shirts and bumper stickers would not only raise real money, but also help Obama to connect with the fashion-conscious, irony-aware millennials whose support was critical to the campaign. 
It worked. According an Obama official, the merchandise created an additional revenue stream of $40 million, while bringing in more than 200,000 donors. "Campaigns are all about getting people excited and involved," Messina says. "We found that fashion both raised money and allowed people to participate in a way that felt new and unique." He adds, "It was way easier and more fun to sell a Beyonce-designed shirt than a bumper sticker."
But the merch team made a surprising discovery: It was often the tackiest stuff that sold the best. While the celebrity-designed products drew all the attention, the "O'Bama" Irish-themed gear, Obama-branded tube socks, and Obama-birth-certificate coffee mugs (a Donald Trump-directed troll) were the real smash hits. "What we were able to do with the Obama merchandise was to make it 'cool,'" says Meaghan Burdick, who ran the campaign's merchandising arm. "Political T-shirts, buttons, and swag have always been a way to show your support—but we made items that were popular with people who were not your average political merchandise buyers." (Not everything sold—the Obama-scented candles were a notable flop.)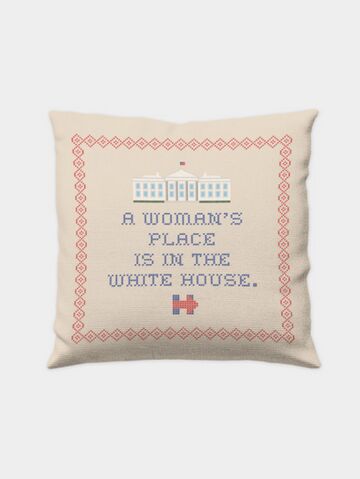 Clinton may eschew the idea that she's running for Obama's third term. But her announcement video made clear that her strategy for winning the White House is built upon reactivating the old Obama coalition of minorities, single women, and young people. So it stands to reason that pantsuit tees and pro-woman throw pillows would be a key component of her political strategy. (It's also no coincidence that the Republican most eagerly pursuing millennials—Rand Paul—is the only one hawking mock-ironic schwag like a $100 "Hillary Hard Drive.")
The thing to remember about political fashion is that it's not really about looking good. "Dude, that pantsuit tee," says Burdick. "I hope they're making money!"
(Updates previous version of this story to correct Meaghan Burdick's name in the fifth paragraph.)
Before it's here, it's on the Bloomberg Terminal.
LEARN MORE