New York City's Shrinking Bond Costs Belie De Blasio's Free-Spending Image
Henry Goldman and Martin Z. Braun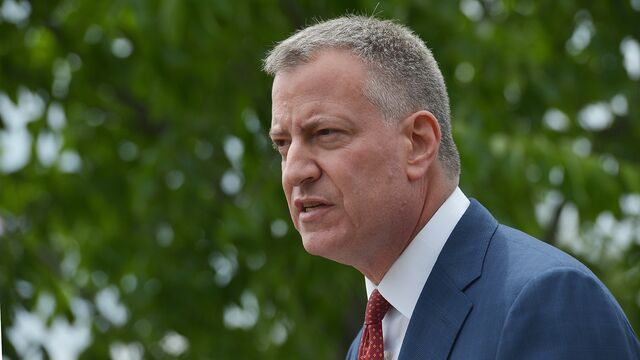 While New York's tabloids depict Mayor Bill de Blasio as a Robin Hood dispensing taxpayers' cash to labor unions and the poor, he's winning over Wall Street for his handling of the city's purse.
As New York sold $916 million of fixed-rate debt Tuesday, buyers accepted yields of 2.66 percent on tax-exempt 10-year bonds, just 0.35 percentage point more than top-rated securities, according to data compiled by Bloomberg. That gap has dropped from as much as 0.6 percentage point four weeks after de Blasio took office in January 2014, reflecting buyers' improving confidence.
The mayor is benefiting from six years of economic growth that's brought forth billions in unexpected tax revenue, alleviating investors' concerns that he'd spend beyond the city's means. A self-described progressive fiscal conservative, de Blasio last month proposed stashing $4.1 billion away in case the economy goes sour, part of a record $78 billion budget.
"He's spending but not overspending," said Howard Cure, director of municipal credit research for Evercore Wealth Management LLC, which oversees $5.9 billion and put in an order for the new bonds. "It's always nice to govern with money. The real test will be how he does if there's a downturn."
Thriving City
New York's finances have been buoyed by an expanding job market and rising real-estate prices. Since the end of the recession in mid-2009, the payrolls of city employers have swelled by 13 percent, outpacing the 8 percent jump nationally.
"Economically, New York continues to thrive," said Dan Heckman, senior fixed-income strategist at U.S. Bank Wealth Management, which oversees about $128 billion. "That's what we're most focused on."
City officials anticipate New York will collect $2.3 billion more this year than forecast last June, driven by a windfall from taxes on property, residents' incomes and retail sales.
That's allowed de Blasio, 53, to follow through on his pledge to aid the poor. His budget, which has yet to pass the City Council, includes more money for public housing, rent subsidies and poorly performing schools. He's proposed a record $84 billion spending program over the next decade for infrastructure.
Money Saved
There's still been money left to save. De Blasio has salted away $500 million in a capital reserve fund to pay off debt if a recession causes revenue to slide. The mayor has also put $2.6 billion in a trust fund to cover retirees' health-care benefits, with another $1 billion set aside to cover future deficits.
"The mayor's use of reserves, it's excellent," said Carol Kellermann, president of the Citizens Budget Commission, a business-sponsored group that advocates for fiscal restraint. "The question is whether the reserves will remain there by the June 30 deadline for him and the City Council to agree on next year's spending plan."
New York's bonds are rated AA by Standard & Poor's and Aa2 by Moody's Investors Service, the third-highest rank.
De Blasio said in an e-mail that he's glad the city's been recognized with "strong, stable ratings from the three major agencies, incredibly successful bond sales, and positive reports from the watchdogs."
Union Contracts
A little more than year ago, the mayor confronted an unprecedented situation in which contracts with all 152 municipal unions had expired.
The potential cost to the city from the outcome of the negotiations led some investors to cut exposure to New York debt at the time. The difference between the yield on the city's 10-year bonds and benchmark munis, which was as little as a quarter percentage point in April 2013, more than doubled by the end of January 2014.
UBS Global Asset Management, which reduced its allocation of city bonds in some funds, has kept that in place, seeing better opportunities elsewhere, said Charles Grande, the head of municipal research for the firm in New York.
New York has since replaced 80 percent of the lapsed contracts with new agreements, which include back pay for the years after the previous deals ended. New York Post and Daily News editorials called the terms too generous, depicting the mayor as a modern-day Robin Hood victimizing city taxpayers.
Police and firefighters are still without contracts. City Council members are pushing the mayor to hire 1,000 more officers.
De Blasio has resisted, saying crime-fighting efforts would benefit more from technological and strategic initiatives than increased manpower. He's said he's open to compromise as he negotiates with the City Council, whose approval he needs to enact a balanced budget by June 30.
"He's dealing with a City Council that doesn't understand the concept of rolling over expenses for future years and just wants him to spend it all now," Kellermann said. "The extent to which he can resist the pressure to spend more is the measure of how fiscally responsible he will be."
Before it's here, it's on the Bloomberg Terminal.
LEARN MORE