Jon Stewart Ribs De Blasio as Height One-Percenter
Henry Goldman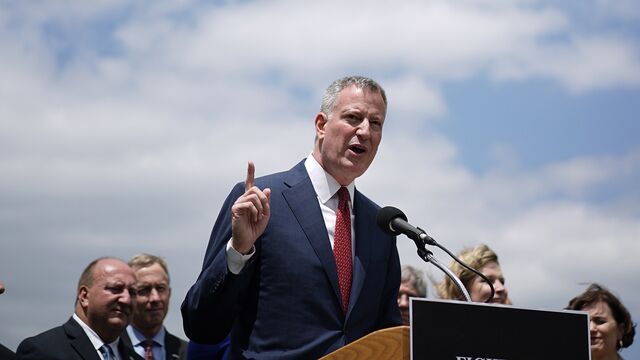 Bill de Blasio may not believe in the social Darwinism that says poor people are born to fail, but when it comes to height, the 6-foot 5-inch mayor of New York told comedian Jon Stewart that it's all about survival of the fittest -- or in this case, tallest.
De Blasio, 53 and one of the tallest mayors to ever run Gotham's City Hall, visited the talk show host Tuesday night to bid him farewell with the days waning before Aug. 6, when Stewart, 52, leaves the Daily Show for good after 16 years.
Stewart, who's reportedly 5 foot 7 inches, asked de Blasio to forget income inequality, one of the mayor's top issues, and focus on height inequality, lumping de Blasio in with the "one-percenters who tower in their ivory legs over the hoi polloi, the proletarian, who may be closer to the rats, the gutter, the subway. How do you redistribute?" Stewart asked.
According to an account by a New York Times reporter asked by the mayor's office to observe the event for the media, De Blasio didn't miss a beat.
"I'm kind of Darwinian on this one," he said. "You know, winners, losers."
When Stewart continued the banter, suggesting that tiny people like him would tie up the giants as Jonathan Swift described in his 18th century novel, "Gulliver's Travels," de Blasio kept it up, pretending to confide to Stewart, "I've had that recurring nightmare. This is amazing!"
Campaign Themes
Stewart gave de Blasio an opportunity to expound on the themes he's raised since his campaign two years ago that made him the first Democratic mayor of the largest U.S. city in 20 years.
He touted the fact that crime has gone down, even though shootings and homicides have increased this year compared with 2014.
De Blasio rejected Stewart's suggestion that past police stop-and-frisk tactics might be more effective against crime, saying they represented an "unconstitutional and alienating approach" that "ties up a ton of police time and energy into things that aren't actually going after serious crime."
His administration is "on the right track," he said, citing new training, body cameras and other technology that he said would increase police effectiveness.
De Blasio reiterated his push for a $15 an hour minimum wage, paid sick leave and affordable housing.
"Can you live in New York City on $8.75 an hour?" the mayor asked the studio audience. The answer from the crowd was a resounding, "No!"
He got even more applause when he mused out loud: "Here's a crazy idea. Tax the wealthy."
(An earlier version of this story was corrected to say the show was taped on Tuesday and an $8.75 wage.)
Before it's here, it's on the Bloomberg Terminal.
LEARN MORE