The 'Draft Warren' Era Ends as the Bernie Sanders Era Begins
The small victories of the progressive campaign to lure the Massachusetts senator in the race may end up benefiting one from Vermont.
by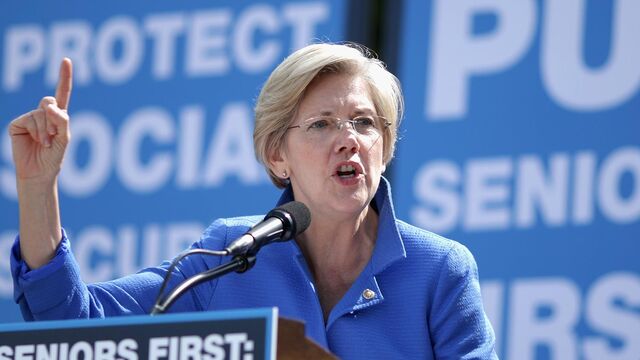 On Dec. 10, 2014, the progressive groups MoveOn and Democracy for America announced the start of a "Run Warren Run" campaign with a video that made Massachusetts Senator Elizabeth Warren look like a candidate. Splicing together footage from her speeches and from interviews on her 2014 book tour, the video ended with Warren appearing to pause when ABC News's David Muir asked her, "Are you going to run for president?" It cut out right before her answer—"I'm not running for president"—but when the Des Moines launch party for "Run Warren Run" saw the edit, the room broke into cheers.
At the time, MoveOn's Ilya Sheyman told me that the draft campaign could last until September 2015, at the latest. "Can it go through summer?" he asked. "Absolutely. Can it go later? Potentially." Yet at 5:30 a.m. today, MoveOn and DFA announced that the campaign was over. It may be worth publishing the metrics cited in its tent-closing memo to reporters.
Signed up more than 365,000 Americans who believe Sen. Warren's vision and track record would make her a great candidate;

Opened field offices in Iowa (Des Moines, Cedar Rapids) and New Hampshire (Manchester), hired field organizers in both states, and built a network of local, grassroots leaders in these key early states committed to encouraging Sen. Warren to run;

Recruited more than 60 state legislators and local party leaders from Iowa and New Hampshire to join the Run Warren Run effort;

Held more than 400 events, including rallies, house parties, teach-ins, honk-and-waves, and other events in nearly every state;

Been endorsed by dozens of prominent organizational leaders, elected officials, celebrities, and other progressives;

Generated coverage in thousands of news stories elevating Sen. Warren's voice and demonstrating a groundswell of grassroots support for her leadership—setting the stage for the presidential race and changing the dynamics of important debates in Washington.
The last bullet point, the most meta, really mattered. Had reporters looked only at polls, from December to now, there would have been little evidence of progressive voters kicking against Clinton. There had been official "draft Warren" movements since July 2014, when Obama campaign veteran Erica Sagrans launched "Ready for Warren." The October 2014 Bloomberg/Des Moines Register poll of Iowa had Hillary Clinton grabbing the support of 53 percent of Democrats in the first caucus state; the Bloomberg/Saint Anselm poll of New Hampshire in November had Hillary Clinton at 62 percent. This month, the same poll had Clinton at 57 percent in Iowa and 62 percent in New Hampshire.
Even as Clinton took on water from her self-inflicted e-mail and foundation controversies, the progressive energy behind a challenge stayed constant. (Saguaros has told Bloomberg News that "Ready for Warren" will keep in the field.) The coverage of the draft campaign, however, added to the cocktail that would flavor the Clinton campaign. Clinton re-entered political life with events where she called for paid family leave and student debt relief. Whenever possible, the Draft Warren groups pointed to Clinton's positioning—to any Democratic rallying around the cause—as a result of the threat posed when progressives started signing up for Warren.
This helped the MoveOn/DFA campaign survive umpteen disavowals of interest from Warren herself. What really finished it was the surge of progressive support toward Bernie Sanders. Progressives had bet that Warren, who would neutralize any identify politics about electing the first female president, could articulate their cause better than a septuagenarian Socialist from Vermont. When voters swarmed Sanders's website and events, it proved that there was at least enough progressive energy for an accentuate-the-differences campaign. It also proved that it did not need the "perfect" candidate. Sanders could pull it off.
"We're wrapping up the Run Warren Run campaign because we made our case, not because of any of the other candidates," said MoveOn's Washington director Ben Wikler. "At this point, the marginal utility of more Warren drafting is less than the other stuff we could be doing."
Before it's here, it's on the Bloomberg Terminal.
LEARN MORE