Rand Paul, Ron Wyden Release Nine Amendments to USA Freedom Act
As Republican leaders try to weaken the bill, Paul wants to put it on steroids.
by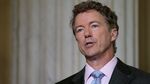 According to Kentucky Senator Rand Paul's presidential campaign, Sunday's votes on the USA Freedom Act amounted to a partial victory and a total fulfillment of Paul's promise. The Republican had said he would make the Patriot Act expire. Parts of it had. While Paul had opposed the USA Freedom Act, he held out hope that it could be amended to offer more protections.
On Tuesday morning, Paul and Oregon Senator Ron Wyden, his Democratic partner on all things Patriot, released the nine amendments they want to see votes on, to fix the USA Freedom Act. The descriptions from their offices:
·        Amendment 1446: Require the government to get a warrant before collecting personal information from third parties

·        Amendment 1441: Raise the standard for government collection of call records under FISA from "reasonable grounds" to "probable cause"

·         Amendment 1442: Limit the government's ability to use information gathered under intelligence authorities in unrelated criminal cases

·         Amendment 1443: Make it easier to challenge the use of illegally obtained surveillance information in criminal proceedings

·         Amendment 1454: Prohibit the government from requiring hardware and software companies to deliberately weaken encryption and other security features

·         Amendment 1444: Clarify the bill's definition of "specific selection terms"

·         Amendment 1445: Require court approval for National Security Letters

·         Amendment 1455: Prohibit the government from conducting warrantless reviews of Americans' email and other communications under section 702 of the Foreign intelligence Surveillance Act

·         Amendment 1460: Strengthen the bill with additional provisions from previously introduced surveillance reform legislation. 
They're flogging these amendments knowing that Republican leaders want to sprint in the opposite direction. North Carolina Senator Richard Burr, the chairman of the Select Committee on Intelligence, told Bloomberg on Sunday that Paul was basically grandstanding after missing his shot at serious amendments. "There won't be any negotiations with Rand Paul from this point forward," he said.
On Tuesday, at the start of the Senate's session, Majority Leader Mitch McConnell made the case for amending the USA Freedom Act to drive it further away from what civil liberties groups wanted. "We don't want to find out that the system doesn't work in a far more tragic way," he explained.
Not all civil libertarians are cheering on Paul. Under another theory of the last few weeks, had Paul not forced the delay of the security provisions, the USA Freedom Act as approved by Utah Senator Mike Lee et al might have already made it through both houses of Congress. Paul's insistence on getting more concessions has civil libertarians committed to a longer, riskier fight, with the NSA's defenders—led by McConnell—getting an extra chance to amend it.
Before it's here, it's on the Bloomberg Terminal.
LEARN MORE