Frank Guinta's Mom and the FEC Aren't Buying his Campaign Cash Alibi
The New Hampshire representative told the FEC that the money his parents gave him during the 2010 campaign were from a "family pot." His mother and sister said otherwise.
by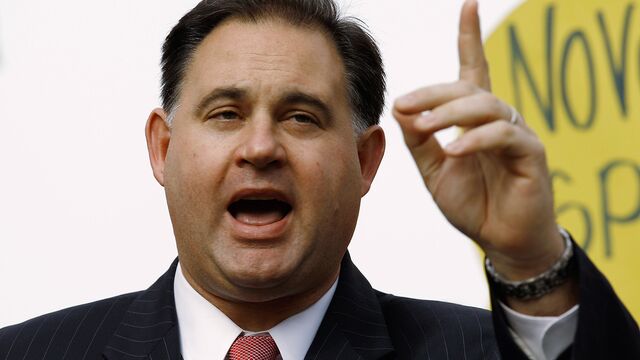 Politics and family do not always mix. 
Last month the FEC and Representative Frank Guinta, a New Hampshire Republican, reached a conciliation agreement over $355,000 donated to his 2010 Congressional campaign. Guinta claimed that the funds, which originated from an account in his parents' name, were part of a "family pot" which included money that he had contributed to, and which he and his siblings could access. The FEC found this was not the case, and in an apology/statement Guinta maintained that the money was his, but had been improperly reported.
Documents released Tuesday add an extra layer of embarrassment to the story—Guinta's family completely discredited his claim that the money in his parents bank account was his. On nine of the checks Guinta's mother, Virginia Gunta, gave to Frank Guinta, she wrote the word "loan" on the memo line, the report states, "suggesting her understanding that Rep. Guinta. was borrowing funds from her." Guinta deposited those checks, then donated the money to his campaign.
"Virginia Guinta confirmed her understanding that the loans would be repaid," the report continues. "Such an understanding is inconsistent with the proposition that Rep. Guinta and his parents understood that Rep. Guinta had a legal or equitable right to dispose of the funds as he wished."
As the report shows, his family disputed that claim. Guinta's sister was also "unaware such a family pot existed, let alone that she or either of her brothers enjoyed a legal or equitable right to access those funds."
The FEC case has sparked calls for Guinta'a resignation and prompted the right-leaning Union Leader to call him a "damned liar" in a short op-ed. The New Hampshire Democratic Party, which filed the initial complaint against Guinta, in a statement on Tuesday, argued that the FEC report proved the premise of the Union Leader report.
—Bloomberg BNA's Kenneth P. Doyle contributed to this report.
Before it's here, it's on the Bloomberg Terminal.
LEARN MORE