Congress Curbs NSA Spying Two Years After Snowden Disclosure
Chris Strohm and Kathleen Hunter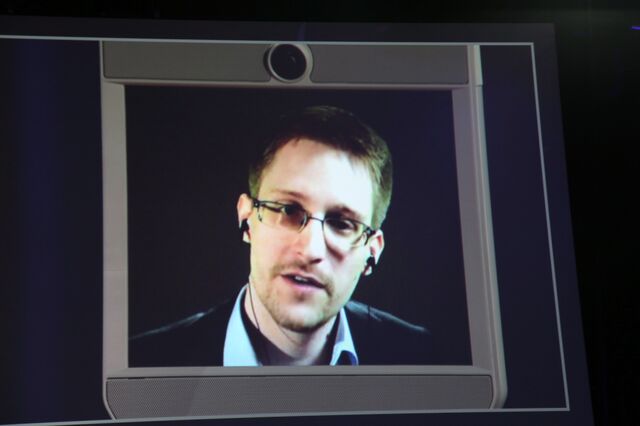 Congress voted to stop the National Security Agency from collecting bulk records on Americans' phone calls almost two years after Edward Snowden began revealing details of classified U.S. government spy programs.
The Senate voted 67-32 Tuesday to limit NSA spying while reviving three other anti-terrorism surveillance programs that expired Monday. The House passed the measure in May. President Barack Obama signed the bill into law.
Obama and other Democrats, privacy groups and technology companies hailed the bill, known as the USA Freedom Act, as a significant victory in balancing U.S. security interests with the need to protect civil liberties.
"My administration will work expeditiously to ensure our national security professionals again have the full set of vital tools they need to continue protecting the country," the president said in a statement.
The measure, H.R. 2048, is lawmakers' only action to curb spying since Snowden, a former government contractor, began exposing classified U.S. programs. Friday marks the two-year anniversary of the first revelations by Snowden, who fled the U.S. out of fear of prosecution and is living in Russia.
The measure would renew programs allowing investigators to seize targeted phone, hotel and banking records of suspected terrorists and spies; use roving wiretaps to track suspects who use more than one communication device; and use surveillance tools to search for lone-wolf terrorists not connected to an organization.
Bulk Records
It would prohibit the NSA from collecting bulk records, including information about phone calls made by millions of Americans who aren't suspected of having links to terrorism. Instead, the government would develop a new system in which investigators would get court orders to obtain specific records from phone companies.
"The passage of the USA Freedom Act is the most significant victory for Americans' privacy rights in more than a decade," Senator Ron Wyden, an Oregon Democrat and a critic of the government's bulk-data collection, said in a statement.
Obama also backs the limit for the NSA. The president and national security officials have said the other programs are needed in the fight against terrorism.
Senate Majority Leader Mitch McConnell of Kentucky, who voted against the bill, called Obama a "reluctant commander-in-chief" who has undermined national security amid new violence by Islamic State terrorists.
"Nobody's civil liberties are being violated" by the NSA's bulk-data collection, said McConnell, who unsuccessfully sought to amend the House bill. He called its passage "a resounding victory for those currently plotting attacks against the homeland."
Obama Victory
Senate passage of the House bill represents a victory for Obama more than a week after the measure fell three votes short of Senate support needed to advance it.
The bill's passage was delayed by Senator Rand Paul of Kentucky, a Republican presidential candidate who blocked speedier action while contending the measure doesn't do enough to limit spying.
Before passing the bill Tuesday, the Senate defeated three amendments proposed by McConnell, who said they would ensure that a new data-collection program will "function as its proponents say that it will."
Democrats said the revisions were unnecessary and would send the bill back to the House, leaving the three expired anti-terrorism programs off limits to intelligence and law enforcement agencies.
House Speaker John Boehner of Ohio had continued to call for the Senate to pass his chamber's version of the bill, which passed 338-88, while declining to say whether the House would accept any changes made by the Senate. Ultimately, McConnell and other Republican leaders couldn't convince enough of their members that the House would accept a revised measure.
'Can't Prove'
Senate Majority Whip John Cornyn of Texas told reporters that while he thought House lawmakers would agree to the changes, "I can't prove to them that I'm right and they can't prove to me that I'm wrong."
Although McConnell and Boehner both supported the three U.S. spy programs that expired Monday, they had been at odds over ending the NSA's collection of bulk telephone data.
Democrats seized on the issue as the latest example of McConnell and Boehner being out of sync though they hold the majority in both chambers.
A similar dynamic played out in February, when a disagreement between House and Senate Republican leaders over whether to attach language blocking Obama's immigration orders almost halted funding for the Department of Homeland Security.
Before it's here, it's on the Bloomberg Terminal.
LEARN MORE