The Surprising Reaction to Obama's Cuba Experiment in Miami's Little Havana
The regime may be as bad as ever—but the move is "a necesary evil."
by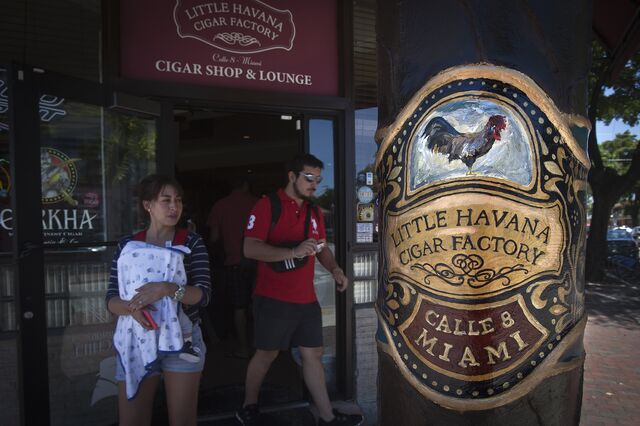 During an art walk in Miami's Little Havana this weekend, Luis Palomo ran into his friend and fellow Cuban-American Jackie Llaguna's gift shop and gallery on Calle Ocho calling, "O-BA-MA!"
Both were ebullient that the president had just made a surprise visit to the shrine of Our Lady of Charity—La Ermita de la Caridad—in Coconut Grove. "That gesture? Look at this,'' Palomo said, pointing to the goosebumps on his arm. The first president to visit the sea-side shrine built by Cuban exiles to "la virgen,'' he said, had done something "sacred and personal and not the usual photo op."
The other news of the day, though, that Cuba has been officially taken off the list of state sponsors of terrorism, is an altogether more complicated matter for their community. "Nobody gave us a choice" in the matter, said Llaguna, who opened her family-run shop here 16 years ago.
In Spanish, her elderly mother advised her not to even speak about it, but Llaguna did, even if her feelings are mixed: "If it helps the Cuban people, I guess it's for the better. I don't know how any of this will change the government" in Havana, though, she added. "I mean, you can travel to Venezuela, too, but it's still a sucky country."
The response to lifting the terror designation is definitely generational, she and others said, with those who experienced the Cuban revolution and the repression of the Castro regime personally reacting far more negatively. "What my 20-year-old kid cares about is not the same as my father who was in a Cuban jail,'' said Llaguna. "For lot of the older people who are not in favor, it's not because they're ignorant; it's because they lived it! With all respect to the Jewish community, if someone came now saying oh, the Nazis were not that bad? No. Today's generation will still get up tomorrow with their cars and their Internet—and if you tell them how bad things are in Cuba they don't even believe you."
Her aunt, Carmen Llaguna, who also works in the store, ran her fingers through the back of her niece's hair affectionately as she murmured agreement. "I don't think it's going to change much,'' she said with a sigh, "but let's hope" anyway.
Their friend Palomo, a film director and art collector, sees the move as "a necessary evil." Yes, it's an affront "to the generation that is dying, like my parents, that has very deep scars" because of the Castros. "Right now again there's a big wave of repression in Cuba, and this emboldens them," he said of the Cuban government, but in part, Palomo feels, that's because even they know this is the last gasp of their regime. "You can only fill so many holes in the dike before it all comes falling down."
Two more friends who arrived in the store just then are quite recent arrivals from the island, and they, like the older Cubans, are not optimistic that anything good can come of the changes. "In my opinion, the Cuban government is terroristic, because the people are hungry and that's terrorism" against them, said Eliecer Jimenez, a 31-year-old film maker whose work is highly critical of the Castros.
He came five months ago, and his wife, Anjelica Marrero, had to leave Cuba under threat just this week: "This validates them,'' she said of the shift. Palomo suggested that the change is an experiment, really—"a promising experiment."
Let's hope it's one that works, said Jackie Llaguna, the shop owner, "because there's no stopping it now." Her eyes filled with tears when she was asked how her late father might have seen the shift. "He was a smart man,'' she said, "and was never one to stop progress."
Before it's here, it's on the Bloomberg Terminal.
LEARN MORE