Rand Paul Declares a Short-Term Patriot Act Victory, as His Opponents Bristle
The Patriot Act is dead, for a few hours.
by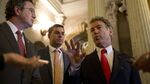 The Senate was girded for an epic night. A stock of hot pizzas had been brought in for sustenance. Reporters placed bets on whether they'd be working into Monday. Republican Representatives Justin Amash and Thomas Massie sat on benches in the back of the Senate well, promising to block quick action on any bill that was sent to the House. Dozens of activists wearing "Stand With Rand" T-shirts occupied the public galleries, tirelessly cycling in and out to stare down his 99 opponents. Kentucky Senator Rand Paul had said for days that he would "force the expiration of the Patriot Act," and people had a pretty good idea of how that would look.
People were wrong. Most of Paul's allies, from Utah Republican Senator Mike Lee to Oregon Democratic Senator Ron Wyden, were ready to vote for the USA Freedom Act that barred the National Security Agency's bulk data collection and forced it to obtain that data from the private sector. After that bill passed, still before sundown, Paul essentially declared victory and went home.
"As we move forward, the Patriot Act will expire tonight," he said at the close of the debate. "It will only be temporary. They will ultimately get their way. But I think the majority of the American people actually do believe the government has gone too far."
Paul had predicted this outcome at the start of his Patriot crusade. On May 18, in Philadelphia, he stood outside Independence Hall and conceded that "they"—the act's supporters—had "the votes inside the beltway." All he could promise a cheering crowd of supporters was that they outnumbered the Washington elite, and they could apply pressure.
At least 75 people took that advice. On Facebook, Paul supporters organized a friendly sit-in of the Capitol, coordinating their red "Stand With Rand" T-shirts and only leaving when the vote seemed lost.
"It's just gonna be another round of the same," said Olivia Valentine, a grad student and activist with Young Americans for Liberty, as she left the Senate. "It reminds me of the Ouroboros, the snake biting its own tail. It's crazy, it's absurd, it's Washington."
Paul's small victory was that some provisions of the Patriot Act would expire for a few days; Paul himself said that there were "80 votes, maybe more" in the Senate to save the basic law. His larger political victory was that he took ownership of Patriot Act opposition, angering Republican colleagues whom he is happy to anger—politicians like Arizona Senator John McCain and South Carolina Senator Lindsey Graham. Even as he complicated the job of USA Freedom Act supporters, telling his backers that the new law was overly compromised, he brought a fresh media focus to their cause and their concerns. They gave him a little credit for that.
"Leader McConnell thought that there were potentially three outcomes to this—extending the existing Patriot Act, that expiring, or the USA Freedom Act," said New Mexico Senator Martin Heinrich, a Democrat who had joined Paul's marathon speech the week before. "What became eminently clear was that the choice here was truly binary. There was simply not the support to extend the existing Patriot Act with the legal problems that the court has articulated."
Wyden, who shared some of his speaking time with Heinrich, agreed with that. "We did not make the choice to begin this debate after the House of Representatives went home," he said. "That was a choice that was made by the majority leader. In fact, what we'd been saying was that this was the time to break the pattern of the last decade. Those who favor the status quo wait until the last minute. They say, it's a dangerous world. We say, there's no question it's a dangerous world, but we can have a responsible debate, instead of operate under the somebody-is-gonna-blink theory."
Still, by standing apart from the rest of the Senate—even from his allies—Paul became a punching bag for supporters of surveillance. Tennessee Senator Bob Corker, the chairman of the Senate Foreign Relations Committee, told reporters that Paul and his fans were basically misled and misguided.
"Edward Snowden has done a huge disservice to citizens of our nation," he said. "Those who furthered the myth of how this program is being utilized, the folks saying phone calls are being listened to—it's sad."
North Carolina Senator Richard Burr, the chairman of the Senate Select Committee on Intelligence, scarcely concealed his irritation when asked if there'd been conversations about Paul's suggested changes to surveillance policy.
"The time to negotiate was a week ago last Thursday, when he turned down every rational offer that was made to him," said Burr. "I can tell you this: There won't be any negotiations with Rand Paul from this point forward."
Paul acknowledged the anger from his colleagues. Before the vote on the USA Freedom Act, he chatted with Massie and Amash and generally ignored fellow senators. He did not attend a pre-vote caucus with Republicans. 
"You may have noticed, there was a little bit of tension on the floor," he told reporters later. "I didn't think it was going to be that collegial."
After they won, USA Freedom Act supporters were left arguing that their critics might come around. "It's a compromise, and it's a good compromise that ends bulk data collection," said Lee when asked what he'd tell the Paul fans who'd gathered in the Capitol. "These people who would agree with ending bulk data collection—I'm not saying that's all of them—I'd say, we should take this as a win."
Asked the same question, about what Sunday's votes said to the people who supported Paul, Heinrich just smiled.
"America is a great country," he said.
"I'd like to strongly second that!" said Wyden.
And on the way out of the Senate, Paul declared victory again.
"We're gonna drag it out," said Paul. "The Patriot Act will expire—it will expire tonight. The point I wanted to make is that we can still catch terrorists using the Constitution, and that I'm not against looking at the records of terrorists. In fact, I want to have more people looking at more records of terrorists. Just less people looking at the records of innocent Americans."
A few questions later, Paul exited the Capitol. Massie and Amash were waiting for him. Paul climbed into Massie's waiting Tesla car, and drove into the distance. Two hours later, the Senate adjourned, with part of the Patriot Act set to expire.
Before it's here, it's on the Bloomberg Terminal.
LEARN MORE