Martin O'Malley Uses Goldman Sachs to Hit Hillary Clinton and Jeb Bush
The former Maryland governor continues to highlight comments attributed to CEO Lloyd Blankfein.
by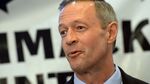 Martin O'Malley wants it to be known that he is not Goldman Sachs' preferred presidential candidate. 
During his campaign kickoff Saturday, O'Malley referenced reports that Goldman Sachs CEO Lloyd Blankfein had told employees that he would be happy if either Bush or Clinton were elected. "I bet he would," O'Malley said during his announcement in Baltimore, Maryland. "Well, I've got news for the bullies of Wall Street. The presidency is not a crown to be passed back and forth by you between two royal families." 
In an interview that aired Sunday on ABC's This Week, O'Malley elaborated on that comparison. 
"I'm saying that what we need new leadership to accomplish is to actually rein in excesses on Wall Street, and when you have somebody that's the CEO of one of the most repeat offending banks in the country telling his employees that he'd be fine with either Bush or Clinton, that should tell all of us something," he said.
That line of attack highlights what is likely to be O'Malley's strategy to try and upset a heavily-favored Clinton—positioning of her as no different from the more moderate Republican candidates. 
"Sure I see differences, but one of the most important differences when it comes to reining in Wall Street is who's on our side," O'Malley said. "I have the independence. I have the track record."
Though Blankfein has not endorsed a candidate in the race, he has let it be known that he is not averse to the idea of a Clinton presidency. "I very much was supportive of Hillary Clinton the last go-round," he told Politico last year. "I held fundraisers for her."
Before it's here, it's on the Bloomberg Terminal.
LEARN MORE