Martin O'Malley Announces Democratic Presidential Bid
He subtly jabs at Hillary Clinton and Jeb Bush, and calls for a Wall Street crackdown.
by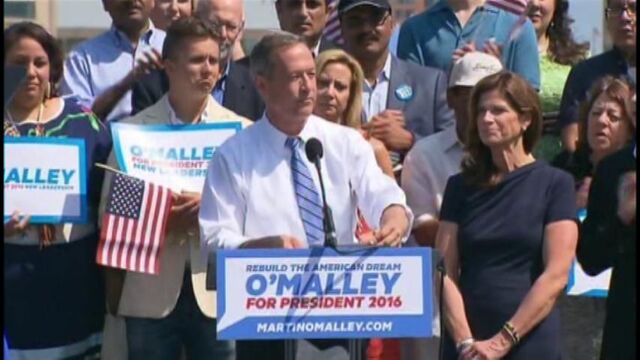 Former Maryland Governor Martin O'Malley said Saturday he will seek the Democratic nomination for president in 2016, launching a long-shot challenge against front-runner Hillary Clinton.
"The presidency is not a crown to be passed back and forth by you between two royal families. It is a sacred trust to be earned from American people, and exercised on behalf of the people of these United States," O'Malley said in a speech in Baltimore, where supporters waved campaign placards calling for "new leadership" and chanted his last name.
He spoke at Federal Hill Park on a hot morning in the city he served as mayor for seven years. Beginning last month, Baltimore was ravaged by riots as demonstrators protested the death of a 25-year-old black man who had suffered injuries in police custody. The events led to scrutiny—and criticism from community advocates—of O'Malley's tough policing policies as mayor, a record he has defended as he calls for improving relations between law enforcement and civilians.
In the populist speech, he called to mind the "scourge of hopelessness" in Baltimore during the riots, as well as the "conditions of extreme and growing poverty" across the country that he said have put the American dream out of reach for many.
He also called for a crackdown on Wall Street, saying that "recently, the CEO of Goldman Sachs let his employees know that he'd be just fine with either [Jeb] Bush or Clinton. I bet he would."
"Main Street struggles while Wall Street soars," O'Malley said. "Tell me how it is that not a single Wall Street CEO was convicted of a crime related to the 2008 economic meltdown. Not. A. Single. One."
O'Malley, who joins Clinton and Vermont Senator Bernie Sanders in the Democratic field, spent months laying the groundwork for a run, with trips to the key early-voting states of Iowa and New Hampshire, high-profile hires to his political team, and e-mails and videos circulated on Twitter, Snapchat, and YouTube teasing his announcement.
O'Malley called Clinton on Friday ahead of his announcement event, said two people with knowledge of the call.
He will position himself as a progressive and a fresh face for a new generation, an O'Malley confidant said. At 52, he is the youngest candidate in the Democratic contest—a decade and a half younger than Clinton and two decades younger than Sanders.
The ex-governor intends to run a spontaneous and non-scripted campaign with heavy emphasis on direct one-on-one contact with voters, the O'Malley confidant said. Look for him to emphasize his youthfulness, executive experience, and liberal record in Maryland, and to try to draw a contrast between himself and Clinton, who has faced criticism from reporters and political opponents for running a tightly controlled campaign.
Tough path ahead
Iowa, which traditionally holds the first nominating contest, is a critical state for O'Malley. Clinton showed vulnerabilities there in 2008 en route to a third-place finish.
People familiar with O'Malley's strategy said he's hoping to pick up the support of liberal groups such as MoveOn.org and Democracy For America, which are seeking a left-of-Clinton candidate and are still holding out hope for Massachusetts Senator Elizabeth Warren to jump into the race, though she has repeatedly said she won't run. 
While Sanders promises an issue-based campaign without negative attacks, O'Malley has shown some willingness to go after Clinton personally, subtly painting her as an opportunist whose support for same-sex marriage and driver's licenses for undocumented immigrants is politically motivated. 
As Clinton leads the Democratic field with more than 60 percent support in recent polls, O'Malley's odds seem low. The former governor has been held to 3 percent or less in recent polls, suffering from scant name recognition and so far failing to fire up the base. A nationwide poll released Thursday by Quinnipiac University found O'Malley with 1 percent support. Clinton had 57 percent and Sanders had 15 percent. 
While some of O'Malley's backers note that President Barack Obama was also a long shot against Clinton in 2008, the former secretary of state appears far stronger today. In the spring of 2007, a CNN poll found Obama within 15 points of Clinton; O'Malley is nowhere near that margin. He also lacks a panacea issue with which to attack Clinton; Obama was able to use her vote to authorize the invasion of Iraq to boost his standing among Democratic primary voters.
On Saturday, one of the songs that played at the park before O'Malley started speaking was "I Won't Back Down" by Tom Petty. Speakers who introduced him included an undocumented immigrant who praised O'Malley's successful push to enact the Maryland Dream Act. Another speaker highlighted the ex-governor's push to legalize same-sex marriage in the state.
But it remains to be seen whether O'Malley can lock up liberal votes against Clinton, who has tacked left on key issues such as immigration, and Sanders, a self-described socialist who has spent decades fighting for the left's causes. Fundraising also will be a challenge for O'Malley unless he can chip away at Clinton's aura of inevitability and convince Democratic donors he has a serious chance of winning.
"I welcome Martin O'Malley to the field of candidates seeking the Democratic Party's nomination for President in 2016," Democratic National Committee Chair Debbie Wasserman Schultz said in a statement Saturday, adding that as governor he "demonstrated his solid commitment to social justice and economic opportunity."
Before it's here, it's on the Bloomberg Terminal.
LEARN MORE