Santorum Says He'd Send Troops to Advise Iraq, Arms to Ukraine
Angela Greiling Keane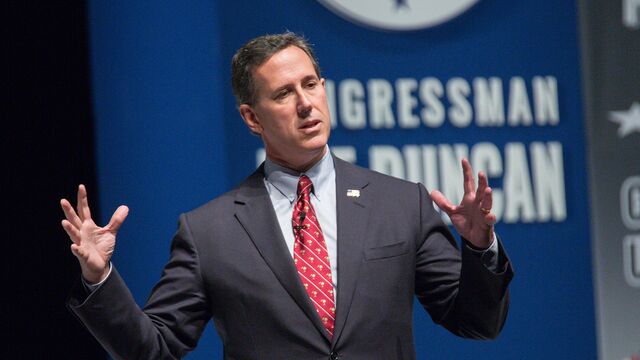 If Republican presidential candidate Rick Santorum were in charge, he'd send more U.S. troops to advise Iraq and direct air strikes and would give arms to Ukraine for its defense, he said Friday.
Santorum, speaking on MSNBC's "Morning Joe" show, said he's "not talking about a massive invasion force" just about doubling the 3,000 now on the ground in Iraq.
"I'm not talking about front line troops here," he said. "If we don't start winning the war against ISIS my fear is we are going to see casualties here in the United States."
Santorum also said he would arm the Kurds to fight Islamic State, provide aid to Jordan to help deal with refugees from war-torn nations and honor a pact from the administration of former President Bill Clinton to provide weapons to Ukraine.
"We've given all the green lights to Russia and then we're surprised that they're going through the intersection," said Santorum, a U.S. senator from Pennsylvania from 1995 through 2007.
Ukrainian Prime Minister Arseniy Yatsenyuk on Thursday appealed to the U.S. and Europe to arm his country in its conflict with pro-Russian separatists, as the Kremlin ordered an information blackout on deaths among troops sent on special operations. He spoke the day after U.S. Vice President Joe Biden said sending "defensive lethal weapons" to Ukraine is a "debate worth having."
While criticizing President Barack Obama for his handling of foreign conflicts, Santorum said he shares the president's call to reauthorize the USA Patriot Act, which the U.S. Senate is scheduled to consider on Sunday. Santorum said he favors extending surveillance programs that are set to expire June 1.
"Rand Paul and I are not on the same page on this issue," Santorum said.
Before it's here, it's on the Bloomberg Terminal.
LEARN MORE