Rand Paul's Secret Weapon Is George Pataki
Just one more discovery in the search for "as many Christies as possible."
by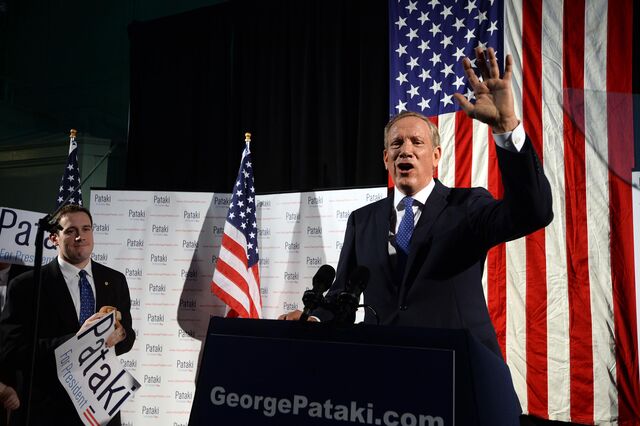 Earlier this year, when New Jersey Governor Chris Christie was polling near the drain pipe, supporters of Rand Paul told me they were worried. The Kentucky senator saw New Hampshire, with its crossover primary and growing libertarian vote, as perhaps the most promising of the presidential contest's early states. He could win it by building a "liberty vote" coalition, adding in mainline Republicans and even some Democrats. That would be harder if Christie collapsed. As one state representative put it: Paul needed as many Christies as possible.
This week might have given Paul what he needed. Former New York Governor George Pataki entered the race with a New Hampshire rally, then barnstormed the state. He's following in the small footsteps of Jon Huntsman, Joe Lieberman—candidates whose views veered away from the party base but who figured they could town-hall their way into a primary win. Pataki has focused most of his attention on the Granite State, winning over two of its fourteen Republican state senators—as many as Rand Paul.
Paul's camp is thrilled, and sees Pataki pulling primary votes from the middle lane. Pataki's announcement speech offered almost nothing to "liberty" voters, suggesting at one point that "if necessary, American forces will be used to actually defeat and destroy ISIS so they can pose no threat to us here." Pataki seemed to be climbing on a rickety cart that might contain Jeb Bush, Chris Christie, Lindsey Graham, and John Kasich; Republicans running on experience and telling-it-like-it-is to hard-right voters.
"No question, [Pataki] splits the moderate vote," said New Hampshire State Senator Andy Sanborn, an early endorser of Paul. "Three months ago, we talked about the easy path for Jeb, as it appeared he would be the only moderate in the race. Now, not only does Jeb have Christie, Pataki, Kasich to split that demographic, but as you see, Rubio is also moderating. In the end, this, plus the pro-war stance all other candidates have taken has put Rand in a singular space. A great place to be, especially in light of the poll today, showing he is one of the leaders in a match-up with Clinton."
Under the bunch-up theory of the primary, Paul could win with perhaps a quarter of the vote, or the 23 percent that his father won in the 2012 primary, when he formed a kind of accord with a dominant Mitt Romney. Current polling has Rand Paul both weaker and better-positioned than the old man. In the RealClearPolitics average, Paul's 12.3 percent put him just 2.4 points behind Jeb Bush, the weakest New Hampshire "frontrunner" in ages. That average gave Christie just five percent of the vote, Kasich just one percent, and Pataki nothing. What happens if Christie and Pataki put down stakes in New Hampshire? The Huntsman/Lieberman example suggests that they lose, but by taking chunks out of the frontrunner.
It's a solid theory, especially at a time when Paul is accentuating the foreign policy gap between himself and the rest of the GOP field. The long-term problem is that the media doesn't necessarily drop laurels on the winner of a tight New Hampshire primary. In 1996, Pat Buchanan's "peasants with pitchforks" campaign drove right through the pack of Bob Dole, Lamar Alexander, Steve Forbes, and Richard Lugar. He won by less than 2,000 votes. It was the apex of his campaign.
Before it's here, it's on the Bloomberg Terminal.
LEARN MORE