This Wyoming Fund Manager Is Betting on Rick Santorum, Again
Foster Friess remains convinced that the former Pennsylvania senator is the standout candidate in the GOP field.
by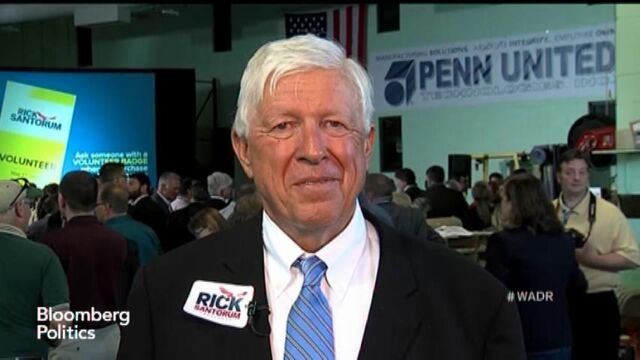 The Wyoming fund manager who contributed $2.1 million to help Rick Santorum run for president in 2012 is backing him again, though less visibly this time.
Foster Friess, founder of Friess Associates, said Wednesday that while he's supporting Santorum financially in his 2016 bid, it will be more "low profile'' than four years ago to avoid being inundated by funding requests. 
Santorum won Republican contests in 11 states in 2012, more than all other challengers to eventual nominee Mitt Romney combined, Friess said in an interview at Penn United Technologies in Cabot, Pa., where Santorum announced his 2016 candidacy yesterday. The former Pennsylvania senator's message to blue-collar workers will resonate, and he is the most knowledgeable candidate about the Islamic State, Friess said.
"He has the best chance of winning," Friess said. "I can't imagine why anybody would not vote for him.''
Santorum raised $22.4 million for his 2012 campaign, according to the Center for Responsive Politics. The Red White and Blue Fund, a political action committee known as a super-PAC and supported by Friess, spent $6.7 million on his behalf, records show. While allies of former Florida Governor Jeb Bush have said their goal was to raise $100 million in the first three months of the year, Santorum has said he doesn't need eye-popping contribution totals to win.
"I don't need to raise $150 million or $50 million,'' Santorum said in an April 10 interview on MSNBC. "That's not the kind of campaigns I run.''
John Brabender, a longtime Santorum strategist, said it's his understanding that a super-PAC is being created to support Santorum and will be run by Mark Rodgers, the candidate's former chief of staff.
Yet Santorum doesn't need to match other Republican candidates in fundraising to buy television advertising because the prominence of social and digital media helps get his message out with fewer funds, Brabender said in an interview.
"Republican primary voters will know everything there is to know about every one of these candidates by the time we get to the Iowa caucuses, and it won't come through TV advertising,'' he said.
Despite his own personal wealth, Friess said having an enormous war chest and big donors could work against a candidate in this cycle, and that Santorum's support among small-dollar donors will be a boon for him.
"The American people are looking for more of a grassroots kind of guy, and if he has less money, that can actually serve to his benefit by having people say, 'Hey we're sick and tired of the big-money interests calling all the shots,'' Friess said.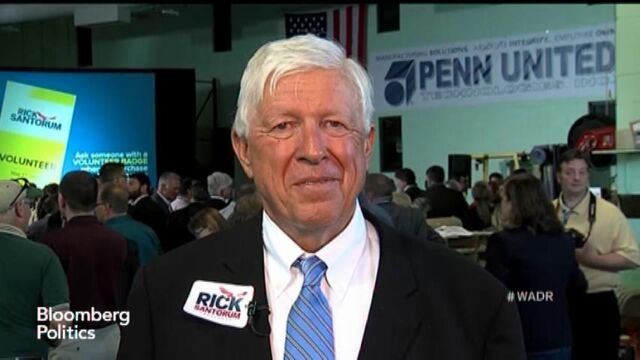 Friess volunteered that he spent $26,000 on a charter flight to join Santorum in Western Pennsylvania for his campaign kick-off. He told John Heilemann on Bloomberg Politics' With All Due Respect that he might learn about his 2016 campaign giving "if you work real hard."
That suggests that Friess might be opting for a 501c group, which under current law can fund political efforts without disclosing donors, rather than a super-PAC, which reports regularly to the Federal Election Commission. Asked whether that's the case, Friess would only say, "Could be.''
Santorum and his wife founded the Patriot Voices non-profit organization and political action committee after the 2012 presidential run, and they have raised a combined $10 million, according to Santorum spokesman Matt Beynon.
The most recent filings by Patriot Voices PAC shows it has raised some $2.2 million, which suggests that the bulk of its fundraising is going to the organization's non-profit wing. Non-profits don't have to disclose donors to the Federal Election Commission and so are the preferred vehicle for contributions by donors who wish to remain anonymous.
Santorum also formed a "Presidential Testing the Waters Committee'' to raise money for travel and other costs in advance of an announced candidacy.
Aside from Freiss, the largest contributor to the Red White and Blue Fund in 2012 was Louisiana energy executive William Dore, who gave $2.25 million, according to the Center for Responsive Politics. He did not return telephone calls seeking comment.
Susan Gore, the founder of the Wyoming Liberty Group, whose family company makes Gore-Tex products, said she gave $500,000 to the super-PAC in 2012 because of Santorum's Christian values. This cycle, she has received funding requests from Kentucky Senator Rand Paul and Wisconsin Governor Scott Walker, she said.
Santorum "is a solid guy or I wouldn't have originally supported him, but I haven't decided on a candidate this time around,'' Gore said in a telephone interview.
Santorum raised $73 million from 1989 to 2014, according to the Center for Responsive Politics. His top contributors were Blank Rome LLP, with law offices throughout the U.S.; Federated Investors Inc., a Pittsburgh-based investment firm; and K&L Gates LLP, an international law firm in Pittsburgh.
 —Kathy Kiely contributed to this article. 
CORRECTION: An earlier version of this story contained an incorrect title for Foster Friess in the second paragraph.
(Corrects Foster Friess' title in second paragraph.)
Before it's here, it's on the Bloomberg Terminal.
LEARN MORE