Republican George Pataki Joins Presidential Race
The former New York governor has little name recognition and will have to prove his conservative credentials.
by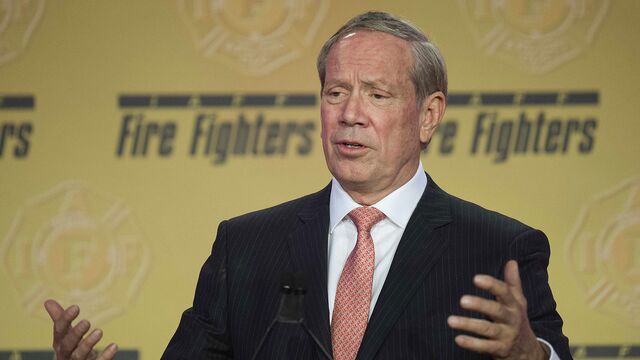 George Pataki said he's running for president Thursdayas a Washington outsider with a proven record of pushing through conservative policies as a three-term Republican governor of New York, a Democratic stronghold.
He announced his candidacy in the sweltering town hall of Exeter, N.H., birthplace of the Republican Party, as he ranks at the bottom of a crowded field in national polls. Pataki, 69, said he understands he has an uphill battle ahead, but it's one he must wage as the nation's history of opportunity is under assault. 
"Freedom, I fear, is at risk today from an ever more powerful, more intrusive government in Washington," Pataki told a crowd of about 200 friends, family, and other supporters. "It is to preserve and protect that freedom for us that I stand here today." 
He said his first move as president would be to permanently ban anyone elected to Congress from becoming a lobbyist. He'd rewrite the tax code that favors the "interests of the powerful" and would cut down the bureaucracy in Washington, starting with those charged with running President Barack Obama's signature health care program. 
"Let's deliver a message to the politicians in Washington," Pataki said. "You are our servants, not our masters."
Pataki unveiled a "Pataki for President" website ahead of the announcement,  the first time he's formally entered a presidential race after floating the idea of his candidacy the last two rounds. Almost 14 years removed from the Sept. 11 terrorist attacks that put him in the national spotlight, Pataki has been unable to stay there.
As he's traveled through early-voting states, stepping into the limelight at events such as the South Carolina Freedom Summit in Greenville along the way, the idea of his candidacy has given birth to the hashtag #Patakimentum, a tongue-in-cheek gesture applied to suggest his ambition.
Still, there may be room for Pataki to carve out. As his fellow Republicans vie to attract the conservative core of the party, he stands as a centrist. He touts the position on the website of "We the People Not Washington," the political-action committee he formed in January to raise cash for his campaign.
"If people can only hear the ideas of 'favored' candidates, Republicans will lose to Hillary Clinton," the website said of the Democratic front-runner. "America should have leaders with records of accomplishment, who are focused on the issues that matter and who have won tough elections despite challenging demographics."
As governor of the Democratic state that elected Clinton to the U.S. Senate in 2000, Pataki approved budgets that increased spending faster than inflation and signed a bill that outlawed assault rifles. On the campaign trail, he's said he supports allowing states to control decisions over gay marriage and abortion.
"That's the conservative approach," he said on Bloomberg Television on May 21 in response to a question about positions that may make it hard for him to win a Republican primary.
Despite Pataki's early visits to New Hampshire and beyond, he barely registers in national polls and is well outside the top 10 that would give him a chance to appear in the first Republican primary debate on Fox News in August.
Being a long shot, though, might be Pataki's comfort zone. In 1994, he was a little-known state senator who put an end to the political career of Mario Cuomo, the three-term governor who was the national voice of liberals during the Ronald Reagan presidency.
He won his first political office in 1981, when he knocked off the Democratic mayor of Peekskill, the New York town about 50 miles (80 kilometers) north of Manhattan where Pataki grew up on his family's farm. In 1984 he beat a Democratic incumbent to win a seat in the state Assembly, then took out a Republican incumbent for a state Senate seat. He's never lost a race for political office.
In 1994, Larry Levy, who at the time was a columnist for the Long Island newspaper Newsday, was among those who counted out Pataki early. Much as he does in the current presidential field, Pataki had to prove he could unite the mainline Republican Party and conservatives.
It wasn't the last time Levy would be proven wrong by Pataki, said Levy, now the dean for Hofstra University's National Center for Suburban Studies.
"I wrote about obstacles that he wasn't supposed to overcome, but he overcame," Levy said by phone. "It happened enough times for me to realize that you have to give this guy a little room, and a little benefit of the doubt." 
New Hampshire, which Pataki says he's visited more than any other candidate, might just be the state for him to make a mark. He won't have to spend big on advertising to connect with voters to resonate, said Frank Ferraro, vice chairman of the local Republican committee, as Pataki sat with him and other members at Me & Ollie's Café after the speech.
"You vote for a person because you talked to them, not because you saw a commercial," Ferraro said.
"That's great, I love that," Pataki said before diving into a story about his love for retail politics.
"The seas aren't going to part for me," Pataki said.  "It's not like they're going to say 'oh thank God, Pataki is running.'
"I'm going to have to work hard, I'm going to have to make the case to groups like this. Sit down, answer the tough questions and then, at the end, if your vision is right, the people believe in your experience and your ability, then you will have the honor to lead."
Before it's here, it's on the Bloomberg Terminal.
LEARN MORE