Obama Trade Bill Seen Gaining Enough Support for Final Passage
Carter Dougherty and Billy House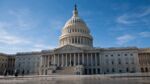 Republican and Democratic supporters of a fast-track trade bill are confident the U.S. House will pass the measure, sending it to President Barack Obama's desk, two House aides said.
Informal vote counts show more than 200 Republicans support the measure and about 25 House Democrats are prepared to vote for the bill, known as trade promotion authority. That is enough for a clear majority of the 433 members of the House, the aides said.
Along with 18 to 20 Democrats who already have stated their support, Representative Gregory Meeks, a New York Democrat, said "there's a sizable number" of other Democrats he thinks will sign on. That includes some House Democratic leaders, said Meeks, who supports the measure.
"I think that TPA is going to pass," Meeks said in an interview. "I think there are sufficient Democrats to get it done."
Passage of the measure in the Senate last week -- after a brief rebellion by Democrats -- has proven to uncommitted House members that the legislation will come up for a vote. Lawmakers will have to choose between the business lobby, which backs the bill, and labor, environmental and other groups that bitterly oppose it.
'More People'
"Now that the Senate has moved, that is going to move more people to decide," said Representative Ron Kind, a Wisconsin Democrat who supports the measure. "Some people were wondering whether this would even come up."
The trade measure, H.R. 1314, would let Obama submit trade agreements to Congress for an expedited, up-or-down vote without amendments. The president has said he wants to complete a 12-nation Trans-Pacific Partnership, a free-trade agreement, and send it for approval under that procedure.
The House will reconvene Monday after a one-week recess. House Republican leaders don't intend to bring the measure to the floor next week as they are still gathering support for it, a House aide said. Action the week after is possible.
The optimistic outlook for passage contains some caveats, the Republican and Democratic aides said, who asked for anonymity to discuss the legislation in advance of a vote.
House leaders still must decide how to sequence votes on the trade authority bill that came over from the Senate. It also contains a renewal of trade adjustment assistance, a program to help workers displaced by trade agreements that many Republicans oppose. Yet Republican leaders have promised to ensure that renewal is included to draw Democratic votes.
Labor Unions
Also, groups on both sides are pressuring undecided members during the recess, and labor unions have organized protests against Democrats who have announced they'll vote yes, such as Representative Ami Bera of California. Outside Bera's office in Sacramento, activists this week waved giant cotton swabs to urge him to "clean out his ears" and listen to voters who don't want the bill.
The business coalition pushing for the bill, also known as fast-track negotiating authority, has brought undecided members to factories to demonstrate the importance of trade. Companies including engine manufacturer Cummins Inc. and Wal-Mart Stores Inc. held such events, and employees of Dow Chemical Co. sent 6,000 e-mails to 200 members of Congress.
Among Democrats, supporters are focusing on the pro-business New Democrat Coalition and the Congressional Black Caucus, according to one of the House aides.
'Reaching Out'
In recent weeks there has been "a dramatic reaching out to everybody," by Obama and administration officials, said Representative Charlie Rangel, a New York Democrat. Rangel said he and other black caucus members want domestic job-creation provisions tied to the trade bill.
The White House has been floating a new "summer jobs program" yet members want something more, Rangel said.
"Because it doesn't make any difference what you say back home," Rangel said. "People want to know what's in it for me."
Representative Nancy Pelosi of California, the Democratic leader in the House, is also giving supporters a free hand to convince undecided lawmakers, a point both Meeks and Kind made.
"The House leadership has been very constructive," Kind said. "They're trying to maintain space for members who want to get to yes but still have some concerns."
The Republican vote count is still fluid, House aides said, and as many as 40 Republicans could oppose the trade bill. But those members don't have an organized whip operation to corral votes, according to the House aides.
Representative Paul Ryan, a Wisconsin Republican who is chairman of the Ways and Means Committee, is attempting to curb opposition to the measure within his party, including those worried about giving Obama expanded authority.
Ryan, in an opinion piece for Fox News Thursday, said that skeptics' best course is to seek to include requirements on how Obama uses the authority during his last years in office.
"Other countries won't wait for the U.S. to elect a new president," Ryan wrote. "The world is writing the rules of the global economy right now."
Before it's here, it's on the Bloomberg Terminal.
LEARN MORE