Jeb Bush Talks Education and Immigration in Michigan
Michigan visit underscores Republican presidential hopeful's long-game strategy.
by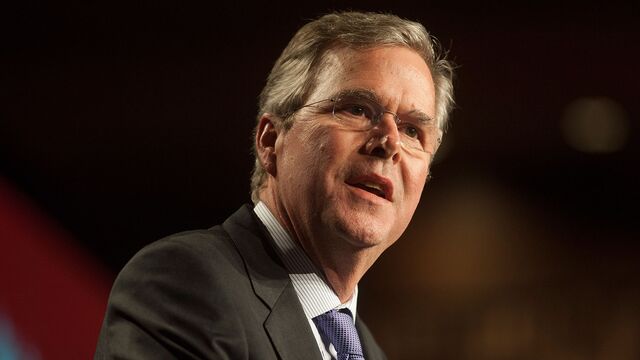 Aspiring Republican presidential candidate Jeb Bush spent his second day campaigning in Michigan, and said he'll be a regular visitor to the Great Lakes State if he enters the race.
"Michigan is an important part of the country," Bush told reporters in Lansing, "I intend to spend a lot of time here if I go forward as a candidate."
 Bush's appearance here followed one in February,when he spoke to the Detroit Economic Club. And it followed more appearances in recent weeks by several other Republicans who are testing the presidential waters. The Republicans interest in a state that twice voted for Barack Obama for president suggests that Michigan's March 8 primary is looming larger on the political calendar than it has in past presidential cycles. That's especially true for a candidate like Bush, who is struggling to gain traction in Iowa and New Hampshire, the states where the first ballots of the presidential election will be cast.
While the state has not produced for Republican presidential candidate (Obama even beat native son Mitt Romney in 2012), Republicans control all branches of state government.  Governor Rick Snyder recently said he wouldn't run for president, dispelling speculation that he would try to wedge his way in as a centrist problem-solver.
Bush appeared Thursday before employees of Emergent BioSolutions Inc., which supplies the U.S. military with an anthrax vaccine. He called reform of K-12 education a top priority, and he echoed Snyder's centrist views on immigration, saying more should be done to keep university graduates from other countries in the U.S.
"They are training people from overseas, and the preponderance of people are being forced to leave because we have a broken immigration system," Bush said. "We're training competitors. They'll go back to their native countries, and the next generation of innovation could take place in that country rather than be sustained here."
He argued that welcoming immigrants would not take jobs from Americans.  "If you allow the intellectual talent to stay in this country, it's not taking away from the intellectual talent that's here already," he said. "It's going to enhance it and create more opportunities."
 Bush said the Republican presidential nominee must attract populations the party has lost, such as young, Latino and Asian-American voters, while remaining true to conservative values -- something he said he could accomplish.
 "You have to campaign in places where Republicans haven't done that well," he told reporters, adding that he was heavily favored by Hispanic voters as governor in Florida. "A conservative needs be hopeful and optimistic about the future and not focused exclusively on how bad things are."
Bush is among five Republican presidential contenders bunched at the front of a growing pack, according to a Quinnipac University poll released Thursday. Getting 10 percent support each of 1,711 registered voters were Bush, Wisconsin Governor Scott Walker, Florida Senator Marco Rubio, retired neurosurgeon Ben Carson and former Arkansas Governor Mike Huckabee.
Before it's here, it's on the Bloomberg Terminal.
LEARN MORE