The Losing Proposition of a Congressional Pay Raise
A one-term Tea Party hero and member of the couch caucus says being in Congress should be a sacrifice.
by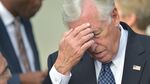 If you want to make the American people upset, tell them Congress wants to give itself a raise. That sentiment was clear last week when two Democratic representatives—Alcee Hastings and Minority Whip Steny Hoyer—argued that the legislature's current salary of $174,000 would make it hard for anyone who isn't wealthy to serve in Congress. 
"Now where we are heading is to becoming an elite institution," Hastings said during a House Rules Committee meeting on Monday. "And I predict for you that 20 years out that the only people who will be able to serve in this institution are people who are wealthy."
By law, Congress receives an automatic cost-of-living bump unless it votes to suspend it. Congress has voted to suspend the bump every year since its last raise in 2009, when the recession made the idea of a raise especially untenable. 
Bringing up pay now, when the median American family income is $52,250 according to the Census Bureau, is still unwise. Roll Call called the raise proposal "politically tone-deaf" while the conservative Washington Free Beacon argued that Hastings' money trouble might have more to do with the millions of dollars in legal fees he accrued fighting corruption charges in the '80s and '90s.  
And at least one former member of Congress agrees. "I mean look, members of Congress are afforded great perks and great privileges," former Representative Joe Walsh said during a phone interview. "Making $174,000 a year should not be a struggle at all because most of these members, in fact all of them, represent districts where the average constituent probably doesn't make half of that."

Walsh was elected to Congress during the Tea Party wave of 2010, and in his first year in office the New York Times estimated that 40 to 50 House members planned to sleep in their offices, including a dozen freshmen members. For them the idea of roughing it in the office was a matter of personal frugality, but also the symbolism of not living in Washington. 
"Gosh, some of my better friends slept in their offices and we'd meet late at night in our pajamas and stuff," Walsh said. "There was that sense of 'We're a citizen legislature, we're not Washington insiders and we don't want to become part of the establishment so let's rough it and sleep in our offices.'" 
Walsh possibly took that mentality to the extreme—despite being the poorest member of his freshman class, and didn't accept Congressional health benefits (or retirement, or pension). He was equally strict with taxpayer funds, and once declared that he wouldn't put "one more dollar of debt upon the backs of my kids and grandkids," while Congress was negotiation the national debt ceiling. (That particular statement turned awkward when the Chicago Sun-Times reported that he owed over $100,000 in child support.)
For Walsh, who served one term in office, being a representative was not supposed to be comfortable. When I asked him if it was hard being separated from his family for half the week he said that his three children were college-aged, but "I hear other members who have younger kids and yeah, that's one of the sacrifices of serving." (Walsh also said that while there were "a handful" of women who also slept in their offices, though he couldn't remember any names.)
His advice for members of Congress struggling with owning two homes—one in D.C. and one in their home district—was equally straightforward: "Don't." And for people who are thinking about running, know it's not easy.
"If you decide to run for Congress, and you want to be a congressman or a woman, it should be a sacrifice," Walsh said. "You shouldn't be rewarded. It should be hard."
Before it's here, it's on the Bloomberg Terminal.
LEARN MORE