Republican Rick Santorum Jumps Into 2016 Presidential Race
The 2012 runner-up is working to broaden his appeal beyond his hardline stance on social issues.
by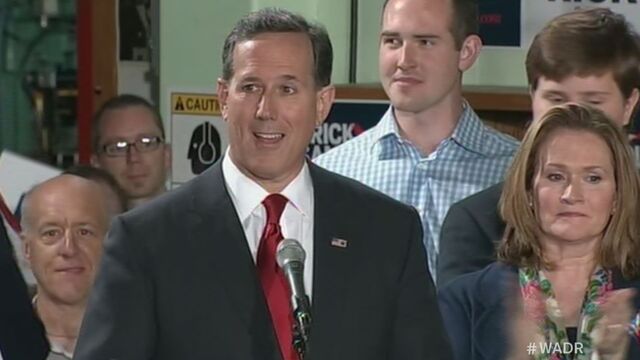 Rick Santorum, the former U.S. senator from Pennsylvania who was the runner-up for the Republican presidential nomination in 2012, said Wednesday he is making a second try for the White House.
Framing himself as a champion of the middle class and blue collar workers, Santorum kicked off his campaign at Penn United Technologies, a precision metal manufacturing company with 585 employees in Cabot, Pa., near Santorum's boyhood home north of Pittsburgh.
"Working families don't need another president tied to big government or big money. Today is the day we are going to begin to fight back!" Santorum said to cheers from his supporters. "I am proud to stand here among you and for you, the American workers, who have sacrificed so much, to announce that I am running for president of the United States."
Santorum said he would offer a "full vision for America, one that is clear and conservative." Among his priorities, Santorum said he would cut government regulation, roll back President Obama's executive orders, and change the tax system with a flat tax.
"Step one: Let's scrap the corrupt federal tax code and the IRS that goes with it," he declared, with the crowd of about 600 supporters chanting "Rick, Rick, Rick'' and "U-S-A!''
Santorum also used Penn United Technologies facility in 1994 to launch his campaign for the senate, and he understand the need to grow the "blue-collar middle class'' so entire communities can prosper, said Bill Jones, the company's president.
"I think he really gets that message,'' Jones said.
Santorum, 57, is working to broaden his appeal beyond his hardline stance on social issues. He positioned himself in 2012 as the champion of voters opposed to abortion rights and gay marriage. This year, he's emphasized his eight years on the Senate Armed Services Committee and foreign policy with the rise of the Islamic State, saying he's best positioned to take on a former secretary of state, leading Democratic candidate Hillary Clinton.
The former senator joins a crowded Republican field that is still forming. Six candidates already have declared, while former New York Governor George Pataki, U.S. Senator Lindsey Graham of South Carolina, and former Texas Governor Rick Perry could announce bids in the coming days. Others, including former Florida Governor Jeb Bush and Wisconsin Governor Scott Walker, are also preparing for the race.
Following his campaign kickoff, Santorum is launching a "Take Back America Tour'' in Iowa. He will hold events there Thursday and Friday before heading to South Carolina this weekend, according to the campaign.
Santorum vaulted to contender status in 2012 after he visited all 99 Iowa counties and won the state's Republican caucuses, though his margin was so close that he wasn't declared the winner for more than two weeks after the event. He won contests in 11 states and almost 4 million votes, but trailed in the race for delegates and dropped out in April 2012. That removed the last major hurdle for Mitt Romney, who won the nomination and lost to President Barack Obama.
Santorum founded the Patriot Voices non-profit organization and political action committee with his wife after his 2012 run and remained in the public eye endorsing candidates, giving speeches and releasing the book Blue Collar Conservatives last year. It was billed as providing "a game plan for Republicans to regain popularity by rediscovering" those voters.
John Brabender, a longtime Santorum strategist, said the difference between Santorum's run now and in 2012 is that Santorum started with nothing four years ago and had to introduce himself to voters. Now, he has a base of supporters and volunteers and can focus on delivering his message.
Brabender said the Republican Party also will have one of the strongest fields of presidential candidates in history, so the "rule book is out the window'' for how a candidate traditionally wins the nomination.
"We have 12 longshots for president because they're all so good,'' Brabender said in an interview.
Still, Santorum has his work cut out for him. In the Real Clear Politics polling average on the day of his announcement, he registered just 2.3 percent support, trailing nine of his fellow Republicans. 
Santorum earned undergraduate, graduate, and law degrees from Pennsylvania schools. He served in the U.S. House of Representatives from 1991 to 1995 and became one of the "Gang of Seven" freshmen Republicans who pushed to expose abuses of the House bank.
In 1994, he was elected to the Senate, where he focused on such spending issues as pushing for a balanced-budget amendment, reducing farm subsidies, and tightening government welfare benefits for the poor.
Santorum also championed anti-abortion measures, including legislation outlawing so-called partial-birth abortion.
In 2005, he helped force a vote in the Senate to have a judge intervene to prolong the life of Terri Schiavo, a Florida woman living in a vegetative state whose parents objected to her husband's instruction to doctors to remove her feeding tube.
Santorum became the chamber's third-ranking Republican in 2001 and lost a re-election bid in 2006.
Through Patriot Voices, Santorum has advocated halving the corporate-tax rate to spur job growth. He's also pushed for eliminating taxes on U.S.-based manufacturing and on companies that bring foreign profits back to this country.
Santorum has called for lower spending and shrinking the federal government by capping Social Security and other social-service programs, and allocating funding to states in block grants.
He is chief executive officer of EchoLight Studios, a "faith and family" film-production company. Santorum and his wife, Karen, have seven children.
Before it's here, it's on the Bloomberg Terminal.
LEARN MORE