Groups Seek Justice Department Review of Jeb Bush Fundraising
They raise objections to how the Republican is collecting record sums.
by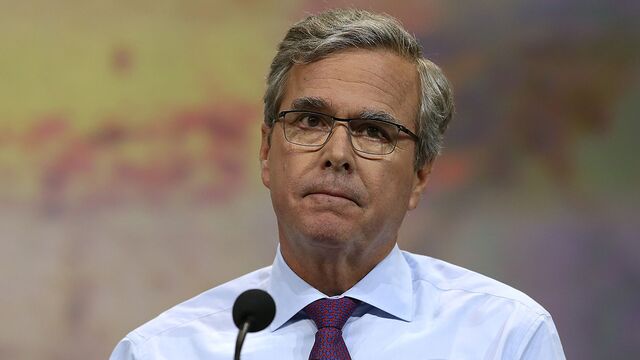 Two groups that have claimed probable Republican presidential candidate Jeb Bush is skirting federal campaign finance laws have asked the U.S. Department of Justice asked the Federal Election Commission to investigate the former Florida governor's operation.
In a letter sent on Tuesday, Democracy 21 and the Campaign Legal Center asked Attorney General Loretta Lynch to appoint a special counsel to investigate Bush's Right to Rise super-PAC, a group that can accept donations of any amount. Bush, who told donors last month that he's raised record sums of money, can co-ordinate with the political committee as long as he's not a candidate. Once he's in the race, he can only solicit donations of $2,700 per person per campaign.
The groups contend that Bush is already a candidate, despite his repeated insistence that he is still only considering a campaign. The groups point to the hiring of political aides in states with the earliest presidential nominating contests, and point to federal laws that state candidacy is triggered when money is excess of what could "reasonably be expected to be used for exploratory activities." The letter also notes that Bush told reporters in Nevada last month, "I'm running for president in 2016." (He corrected himself a moment later by adding, "if I run.")
"There are powerful grounds to conclude that the political charade being perpetrated on the American people by former Governor Jeb Bush and his associated individual-candidate super-PAC is illegal," said Fred Wertheimer, president of Democracy 21.
Bush's team said they're operating within the law. 
"We are fully complying with the law in all activities Governor Bush is engaging in on the political front, and will continue to do so," spokeswoman Allie Brandenburger said in an e-mail.
DOJ spokesman Peter Carr said the letter would be reviewed and declined to comment further.
Before it's here, it's on the Bloomberg Terminal.
LEARN MORE