Carter Warns China U.S. Will Go Wherever Global Law Permits
David J. Lynch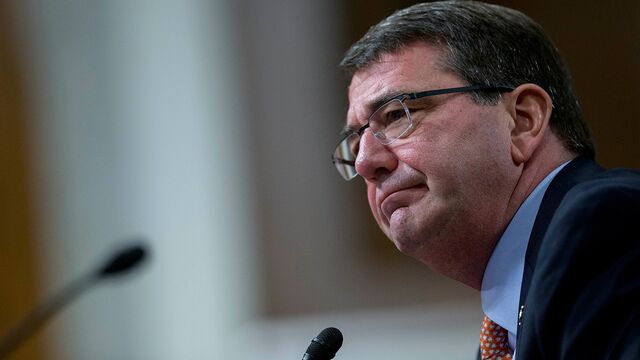 Defense Secretary Ashton Carter delivered the strongest U.S. warning yet against China's moves in the South China Sea, demanding a halt to land reclamation in disputed waters and vowing that the U.S. will remain Asia's leading power "for decades to come."
Heading for a 10-day tour of the Asia-Pacific, Carter called on countries in the region to settle territorial claims with diplomacy rather than force.
"We want a peaceful resolution of all disputes, and an immediate and lasting halt to land reclamation by any claimant," Carter said in a speech Wednesday to U.S. forces at Pearl Harbor in Hawaii. "We also oppose any further militarization of disputed features."
Carter's remarks were a rebuff to China's territorial claims, which have alarmed smaller neighbors such as Vietnam and the Philippines. In recent weeks, China has challenged U.S. surveillance flights over the South China Sea, where it has been expanding small islands and partially submerged rock formations into larger parcels of land.
"There should be no mistake about this: The United States will fly, sail and operate wherever international law allows, as we do all around the world," said Carter, who has ordered the military to develop options for more assertive U.S. demonstrations of its right to transit the region.
'Foolish' Demands
The tough tone is probably designed for "domestic political reasons," said Chas Freeman, a longtime diplomat who served as the principal U.S. interpreter during President Richard Nixon's historic visit to China in 1972.
"The idea is to show, for domestic opinion, the administration is tough," he said in an interview. "If the purpose is to persuade the Chinese to reverse course, then this is counterproductive. It will not have that effect. It will sound like empty bluster."
"It's always foolish to make demands that you know are not going to be met," Freeman said. "It makes you look impotent, not strong."
By Pentagon estimates, China has added about 2,000 acres of territory through its reclamation work. New airstrips and lighthouses dot some of the islands, raising concerns among U.S., Australian and other officials about China's intentions.
Carter spoke as sunlight glinted off the battleship USS Missouri berthed nearby. The vessel, anchored in Tokyo Bay, was the site of the Japanese surrender at the end of World War II almost 70 years ago.
'Utterly Dangerous'
The defense secretary set a confrontational tone en route to a regional security conference in Singapore, where Admiral Sun Jianguo, a deputy chief of staff of China's People's Liberation Army, will be among the participants. Carter accused China of being "out of step" with global and regional standards with its actions in the South China Sea.
"China carries out lawful, justified and reasonable construction activities within its own sovereignty," Chinese Ministry of Foreign Affairs spokeswoman Hua Chunying said at a regular news briefing in Beijing prior to Carter's speech. "Close reconnaissance of Chinese maritime features by U.S. vessels and planes is very likely to cause miscalculation and untoward incidents in the waters and airspace. It is utterly dangerous and irresponsible."
Following the Shangri-La meeting, Carter will visit naval facilities in Vietnam and India in another signal to China of the U.S. commitment to the region.
Chinese officials have defended their island-building, citing a late 1940s map called the "nine-dash line" that predates communist rule and extends about 1,800 kilometers (1,100 miles) south of China's Hainan Island.
'Principal' Power
Chinese officials also argue that other countries including Vietnam and the Philippines have expanded land formations in the region. China also is wary of the Obama administration's plan to rebalance U.S. forces to Asia, including basing 60 percent of the Navy in the region.
Saying that China's actions were only "increasing demand for American engagement in the Asia-Pacific," Carter said, "We're going to meet it. We will remain the principal security power in the Asia-Pacific for decades to come."
While in Hawaii, Carter met with his Philippine counterpart, Voltaire Gazmin, and reaffirmed their shared commitment to defend against any external attacks, according to a Pentagon statement.
Carter spoke at a change-of-command ceremony at Pearl Harbor where Admiral Harry Harris took the helm of U.S. Pacific Command. Harris, who succeeds Admiral Samuel Locklear, will have responsibility for more than 300,000 naval personnel, almost 2,000 warplanes and 180 naval vessels.
Half the Ships
Harris has been critical of China, accusing the government of President Xi Jinping in April of erecting a "Great Wall of Sand" in the disputed South China Sea.
Half the world's merchant ships pass through the South China Sea every year, bearing cargoes valued at an estimated $5 trillion. China claims more than 80 percent of the resource-rich waters.
In December 2013, the guided missile cruiser USS Cowpens and a Chinese military vessel had a confrontation in the sea that required maneuvering to avoid a collision. Last August, a Chinese fighter buzzed within 20 feet of a U.S. surveillance plane in international waters near Hainan Island. Only last week, the Chinese navy warned a U.S. surveillance plane eight times to leave airspace above the contested Spratly Islands.
Before it's here, it's on the Bloomberg Terminal.
LEARN MORE