Carly Fiorina, DNC Bring Attacks to Opponents' Doorsteps
In South Carolina and online.
by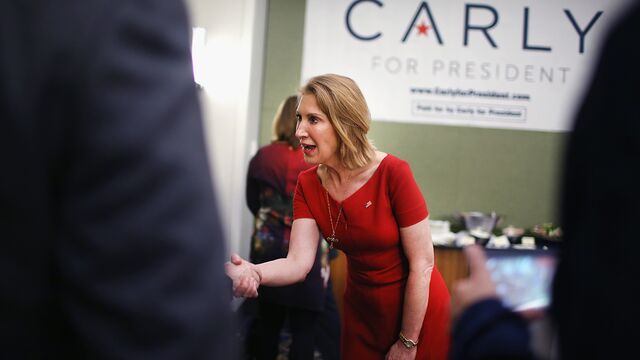 Forget subtlety. Republican presidential candidate Carly Fiorina and the Democratic National Committee are making sure you can't miss their latest attacks on 2016 opponents.
As Democratic front-runner Hillary Clinton campaigns in Columbia, S.C., on Wednesday, Fiorina is holding a news conference at the same venue as one of Clinton's roundtable discussions, according to the Republican's campaign and the Washington Post.
Fiorina, who is not yet polling well enough to secure a spot in the first primary debate in August, has sought to portray herself as a winning alternative to Clinton with a business record that surpasses what she presents as the Democrat's empty résumé.
"We know it must be hard covering the Hillary for America But Against Transparency campaign," said Fiorina's deputy campaign manager, Sarah Isgur Flores, in a tongue-in-cheek news release on Tuesday. "Our events tomorrow are all open to the press. And by open press, we mean we'll actually take questions."
She isn't alone in the tactic. While Fiorina will occupy the same physical space as Clinton, the Democratic National Committee went another route Wednesday, chasing likely Republican presidential candidate Scott Walker to his newly staked-out digital space.
A day after the Wisconsin governor took to the blogging platform Medium for the first time to write about his recent trip to Israel, DNC research director Lauren Dillon took to the same platform to publish a post called "Something's Rotten in Madison," attacking Walker on his jobs record.
Skipping reporters' inboxes and publishing the material straight to Medium "is a first for us—a change in how we might release opposition research in the future," DNC spokeswoman Holly Shulman told the New York Times in an e-mail.
Before it's here, it's on the Bloomberg Terminal.
LEARN MORE