Scott Walker Says He May Cede Florida Primary to Jeb Bush, Marco Rubio
The Wisconsin governor suggests it might be a smarter play for him to skip the state and let the two Floridians burn down their resources there.
by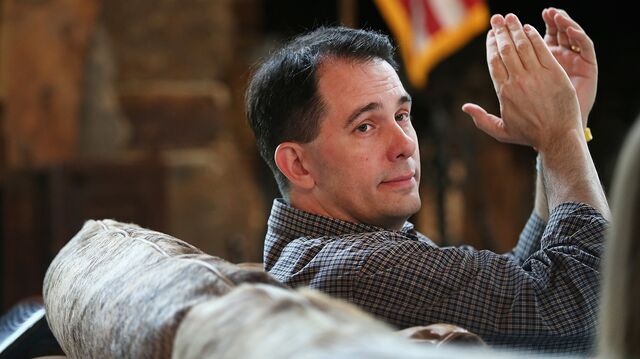 Wisconsin residents often go to Florida in March to warm up. Scott Walker seems ready to make other plans for next year.
The Wisconsin governor and probable Republican presidential candidate said Tuesday that he might not compete in Florida's March 15 primary.
"If we chose to get in, I don't think there's a state out there we wouldn't play in," he told radio host Laura Ingraham. "I mean, other than maybe Florida, where Jeb Bush and Marco Rubio are at least in some of the polls essentially tied."
The massive state has roughly a dozen media markets, including some that are expensive to buy for television ads. Walker suggested it might be a smarter play for him to skip the state and let the two Floridians, former Governor Jeb Bush and Senator Marco Rubio, burn down their resources there.
"They're going to eat up a good amount of that financial advantage that Governor Bush is going to have," he said. "A good chunk of that will be gone after the Florida primary."
Rubio is in the Republican race, while Bush has not formally declared his candidacy.
Walker's strategizing comes likely at least a month ahead of his own announcement. He's said that he won't formally enter the race until the Wisconsin Legislature completes a two-year budget plan, probably in late June.
Walker's political aides downplayed any suggestion that he's already made up his mind to skip Florida's primary.
"Governor Walker is not a candidate," AshLee Strong, a spokeswoman for Walker's political committee, Our American Revival, said in a statement. "Should he decide to move forward, that decision will be made at the appropriate time."
Peter Feaman, a Republican National Committee member from Florida, didn't immediately respond to a phone call seeking comment. 
Walker's statement about his hesitation to compete in the Florida primary comes a week before he and other declared and likely Republican presidential candidates are scheduled to speak in Orlando at an economic summit hosted by Florida Governor Rick Scott.
It also follows a statement Walker made in March when he said he might be the "front-runner" in the race because President Barack Obama had directly criticized him after he signed so-called right-to-work legislation in Wisconsin. At least in the past, front-runners have wanted to compete in big states such as Florida, where they typically have financial and other advantages.
Before it's here, it's on the Bloomberg Terminal.
LEARN MORE