Schneiderman Calls for Full-Time New York Legislature After Arrests
Freeman Klopott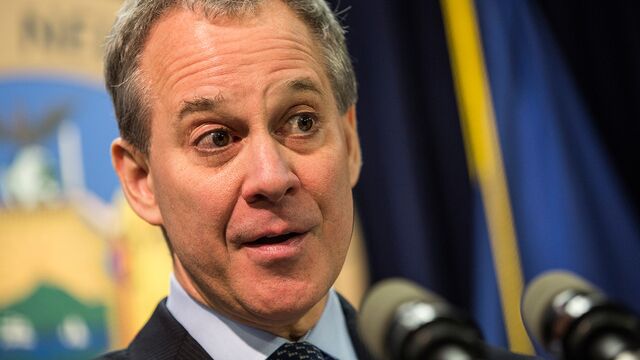 New York Attorney General Eric Schneiderman, seeking to clean up Albany's notorious corruption, said he wants to restrict outside income for lawmakers, increase their pay and lengthen their terms to four years from two.
In an op-ed published Tuesday on the website of the Albany Times-Union, Schneiderman said he'll introduce a bill Wednesday that also calls for restricting donations by lobbyists, closing donation loopholes and providing matching funds for small contributions to offset the power of mega-donors. He says having lawmakers run quadrennially will allow them to spend more time on legislating and less on fundraising.
The attorney general's proposal comes after Republican Dean Skelos resigned as Senate Majority Leader and Democrat Sheldon Silver stepped down as Assembly Speaker, both after being arrested this year on federal corruption charges. More than 30 statewide elected officials and lawmakers have left office because of criminal or ethical problems since 2000. Both Skelos and Silver say they'll be exonerated.
"The parade of arrests will not stop until our leaders take bold steps," Schneiderman, 60, wrote. "There are no legitimate excuses not to act."
The proposals, which Schneiderman proposed earlier this year in a speech, sets up a clash with Governor Andrew Cuomo, a fellow Democrat who has rejected them. Cuomo, whose administration is being probed by federal investigators for his dismantling of an anti-graft commission, said lawmakers wouldn't approve a bill that outlawed outside jobs.
The main resistance is in the Senate, where Republicans who hold power say lawmakers should be allowed to have outside jobs because it helps inform their work in Albany. Schneiderman wrote in the op-ed that making the legislature full-time would ensure that the only clients lawmakers have are those who elected them.
Lawmakers currently earn a base salary of $79,500 annually.
Before it's here, it's on the Bloomberg Terminal.
LEARN MORE