Rand Paul Isn't Done Yet
Toluse Olorunnipa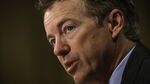 Republican Senator Rand Paul said he plans to block any U.S. Senate action to re-authorize surveillance programs that face a June 1 deadline unless he gets a vote on ending the bulk collection of phone-call data.
"What I'm looking for right now is to see if the other side will negotiate," Paul of Kentucky said Tuesday on the "CBS This Morning" program.
"I would like to have a vote on ending the bulk collection," he said. "I think we can win that vote."
In part due to Paul's objections, senators left Washington early Saturday for a weeklong Memorial Day break without reaching a compromise on the programs. The National Security Agency said it has begun winding down some of the spying programs, revealed two years ago by former government contractor Edward Snowden, in preparation for the deadline.
The Senate early Saturday fell three votes short of advancing a House-passed bill that would continue most of the NSA spying programs while barring the NSA from collecting telephone metadata on Americans. President Barack Obama supports the bill.
"I said over a year ago that it was important for us to balance our needs for security with civil liberties," Obama said Tuesday.
"The House of Representatives did its work and came up with the USA Freedom Act," which strikes "the appropriate balance," the president told reporters at the White House. "I strongly urge the Senate to work through this recess and identify a way to get this done."
Presidential Candidate
Paul, who is seeking the Republican presidential nomination in 2016, said the NSA program is ineffective and violates the U.S. Constitution.
Lawmakers plan to return to Washington on May 31 to seek a compromise.
Winding down the program at least temporarily, a move that the Obama administration has warned will increase the risk of a terrorist attack on the U.S., is necessary after the Senate failed to reach agreement on the White House-backed bill to extend expiring provisions of the USA Patriot Act, an administration official said in an e-mail.
Without a deal, Section 215 of the Patriot Act and two other anti-terror programs will expire at 12:01 a.m. on June 1. The government has used Section 215, approved after the Sept. 11, 2001, attacks on the U.S., to collect records from companies in support of counterterrorism investigations, including details about phone calls.
"I think that information was collected illegally and should be purged," Paul said Tuesday on the "Fox & Friends" program.
Paul said no bad blood exists between him and Senate Majority Leader Mitch McConnell, also from Kentucky, for preventing the Senate from resolving the NSA surveillance debate before the recess.
"I don't think we need counseling yet," Paul said on CBS. "I think we keep it very civil."
Before it's here, it's on the Bloomberg Terminal.
LEARN MORE