Clinton Campaign Shop Touts Union-Made Gear
The Democratic presidential candidate hasn't given unions what they want on trade, but her campaign shop is showing off its union- and American-made goods.
by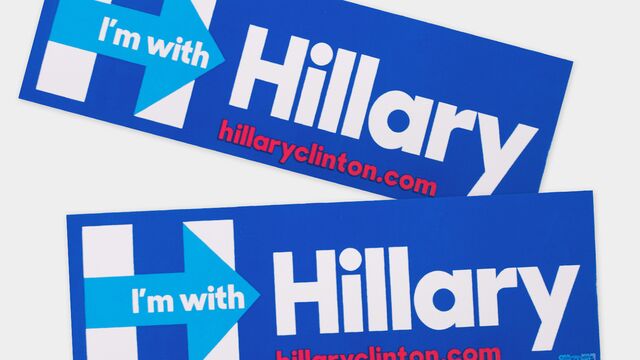 As Hillary Clinton continues to resist weighing on the White House's trade push, which unions largely despise, her campaign's gear shop launched Tuesday touting its union- and American-made goods.
The Democratic presidential candidate has said she's "waiting to see" what kind of labor and environmental protections President Barack Obama's Trans-Pacific Partnership will offer before she decides whether to support it. Last week, the Senate approved "fast-track" legislation which would make it easier to win final passage of the deal. That bill now heads to the House, where prospects remain problematic.
While Clinton has been on the fence about the trade deal, her campaign is taking a Buy American stance: Product descriptions on the campaign's website for the spate of T-shirts and bumper-stickers say they're mostly American-made using union labor.
"Union Made in America," says the page for the $35 "Hats off to Hillary" cap, decorated with her H logo. A T-shirt with a print resembling one of Clinton's signature pantsuits says it's "American Made. Union Printed."
Four of the 25 items up Tuesday morning—including a throw pillow that says, "A woman's place is in the White House"—do not say they used union labor, but the campaign said all were American-made.
Unions have been vocal opponents to TPP, saying it will depress Americans' wages and kill jobs in the U.S. AFL-CIO President Richard Trumka said his constituents "expect those who seek to lead our nation forward to oppose" the deal. Clinton, whose backers also include pro-trade Democrats on Wall Street, however, has tried to fend off the calls from labor and even fellow Democratic politicians like Massachusetts Senator Elizabeth Warren to take a clear stance, saying as recently as May 19 that she'd supported some trade agreements and opposed others.
The prominent union labelling in the campaign shop may not quiet labor groups, but it does allow the campaign to reiterate its focus on income inequality and middle class workers.
Of course, there's nothing unusual about using the campaign shop as place to put a candidate's message on display, on either side of the aisle. As Republican Kentucky Senator Rand Paul spoke out last week against renewing sections of the Patriot Act unchanged, for instance, his presidential campaign pushed out swag trumpeting his opposition.
Before it's here, it's on the Bloomberg Terminal.
LEARN MORE