Brother of U.S. Journalist on Trial in Iran Calls Case 'Outside the Bounds'
Iran's closed trial against a Washington Post reporter comes in the final weeks of negotiations with the U.S. over its nuclear program.
by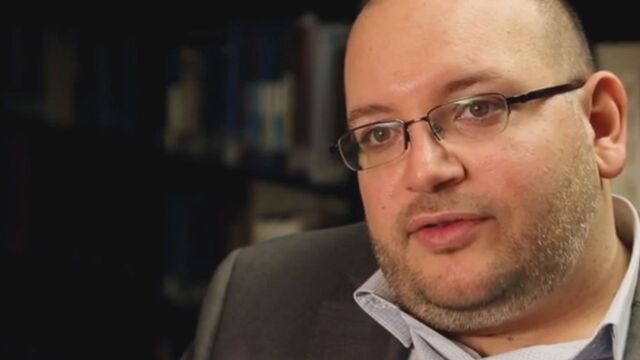 The brother of a Washington Post reporter whose secret trial by the Iranian government on espionage changes began Tuesday said he and his family still know very little about the proceedings, even as they hold out hope for his release.
Journalist Jason Rezaian was accompanied by his attorney and a government-provided translator to an opening session that lasted roughly two hours, while his mother and wife were not permitted in the courtroom, his brother, Ali Rezaian, said in an interview on Bloomberg's With All Due Respect. Ali Rezaian, who spoke from the National Press Club in Washington, said he believes his brother is the victim of "internal politics" within the Iranian government.
"The people there really love Americans," Ali Rezaian said of Iranians. "The government does what it wants to do. They say that they've got a lot of laws, and they choose when they want to follow them and when they don't."
Iran's efforts to hamper and threaten reporters has earned the country an abysmal ranking on the World Press Freedom Index compiled by Reporters Without Borders: 173 among the world's 180 countries. 
While the family believed the opening session would include a reading of the government's charges and evidence, Ali Rezaian said, "it's actually illegal for any information to come out from the trial, so clearly we're not getting anything from there." Jason Rezaian unsuccessfully sought an open trial. The proceeding are under way as the U.S. and Iran are in their final weeks of negotiations over Iran's nuclear program. Two other Americans also are being held by Iran.
Jason Rezaian, an Iranian and U.S. citizen, was arrested last July, just after his Iranian press credentials were renewed. "I don't think that anybody could have thought that something like this was going to happen," Ali Rezaian said, adding: "This is just so far outside the bounds of what had happened before" to Western journalists. He said his brother was "meticulous" about following the rules and had "very good relationships" inside the Iranian press credentialing agency.
Two pieces of evidence the Iran government is believed to be using to argue for the journalist's involvement in espionage include:
An online form in 2008 for then-President-elect Barack Obama's transition team filled out by Jason Rezaian in which, his brother said, "He said, 'I've lived in Iran, I love Iran, I grew up in the United States, I love the United States, I want our countries to be more harmonious. How can I help you guys out? Is there anything I can do in the upcoming administration?' That's basically the extent of that letter." Ali Rezaian said that "it wasn't officially an application for a job."
A U.S. visa application for Jason Rezaian's wife, Yeganeh Salehi.
Ali Rezaian said he last spoke with his brother on July 20, via an online instant messaging system, as Jason was preparing to visit the U.S. days later for a month-long visit. That was to have been his first trip back to the U.S. with his bride to seek her permanent residency in the U.S. "We were talking about where he wanted to go and what he wanted to do."
Before it's here, it's on the Bloomberg Terminal.
LEARN MORE