Ann Kirkpatrick Will Challenge John McCain in 2016
The election-hardened Arizona representative becomes the latest Democrat to try to gain an edge through shifting demographics.
by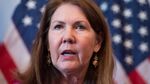 Arizona Representative Ann Kirkpatrick said Tuesday she will challenge Republican Senator John McCain in the 2016 election.
Kirkpatrick could be a long shot in a state that hasn't elected a Democratic senator in nearly 30 years. But votes in a presidential election year tend to favor Democrats, and Hillary Clinton's expected presence atop the Democratic ticket could also be a factor.
Kirkpatrick could also get a boost from shifting demographics: Arizona's Hispanic population has grown in recent decades, up nearly five points to 30 percent since 2000, according to the Census.
Both political parties have been fighting to win Hispanic voters—in Arizona and nationwide. But the effort has often seemed an uphill one for Republicans. If Clinton is on the ticket, her pro-citizenship stance for undocumented workers could be particularly helpful to Kirkpatrick.
"I respect John McCain's service to our nation," Kirkpatrick said in a video announcement. "I just believe our state's changing. Arizonans should have a real choice who they send to the United States Senate."
McCain will turn 80 in 2016, and has told Politico he also expects a Tea Party challenge in the primary.
"Democrats haven't won an Arizona Senate race since 1988," the Rothenberg & Gonzales Political Report, a non-partisan newsletter, wrote on Tuesday explaining why they declared the race now only leans Republican. "But Kirkpatrick could be a formidable foe who is credible enough to attract attention from donors beyond Arizona and Democratic outside groups."
Before it's here, it's on the Bloomberg Terminal.
LEARN MORE