Presidential Candidates Continue to Take Shots at the Supreme Court
From gay marriage to Citizens United, there's plenty for the candidates on both sides of the political spectrum to complain about.
by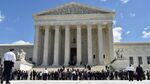 Of late, the U.S. Supreme Court has become a regular target for the current crop of presidential candidates, but for two decidedly different issues.
For Republicans still burned by the court's 2012 ruling that let stand insurance mandates and penalties under the Affordable Care Act, the latest beef with the court concerns its forthcoming ruling on whether gay marriage should be recognized nationwide. That prospect is so galling to some GOP candidates, that some have gone so far as to suggest that the court does not have the authority to enforce such a decision. 
Mike Huckabee
During an appearance last weekend on Fox News Sunday, former Arkansas Governor Mike Huckabee voiced his frustration with the prospect of having the court decide the gay marriage question once and for all. "The notion that the Supreme Court comes up with the ruling and that automatically subjects the two other branches to following it defies everything there is about the three equal branches of government," Huckabee said.
Pressed by host Chris Wallace how far he would carry his logic, Huckabee floated a hypothetical. 
"Then, what if the Supreme Court ruled they were going to make the decision as to who was going to be the next president and save the taxpayers and voters from all the expense and trouble of voting, and they'll just pick a president? Well, we would say, 'Well, they can't do that.' Why can't they do it? They can't do it because it's not in the law."
Ted Cruz
Back in October, Texas Senator Ted Cruz reacted strongly to news that the supreme court had rejected requests from five states seeking to overturn lower court rulings that legalized gay marriage. 
"The Supreme Court's decision to let rulings by lower court judges stand that redefine marriage is both tragic and indefensible," the senator said in a statement. "By refusing to rule if the states can define marriage, the Supreme Court is abdicating its duty to uphold the Constitution."
Cruz also described the court's move as "judicial activism at its worst." 
Ben Carson
Interviewed by Fox News' Chris Wallace in May, retired neurosurgeon Ben Carson argued that it was an "open question" whether a president should be obliged to follow the Supreme Court's rulings. Asserting that "the laws of the land are not provided by the judicial branch," Carson suggested that the question of judicial review had its limits and might be revisited. 
"I have said this is an area that we need to discuss. We need to get into a discussion of this because it has changed from the original intent," Carson said (discussion begins at the 1:45 mark in the video).
Marco Rubio
Unlike his GOP rivals, Florida Senator Marco Rubio did not specifically mention the U.S. Supreme Court when, during an interview in April with the Christian Broadcasting Network's David Brody, he mocked the notion that the right to same-sex marriage is protected in the Constitution. 
"It doesn't exist. There is no federal constitutional right to same sex marriage," Rubio declared. "There isn't such a right. You have to have a ridiculous reading of the U.S. Constitution to reach the conclusion that people have a right to marry someone of the same sex."
For Democrats, meanwhile, disappointment with the court largely stems from the 2010 verdict in the Citizens United v. FEC case, which ruled that the First Amendment to the Constitution prevented the government from restricting the amount of money that corporations and unions can spend on elections. Still, neither of the two politicians to have declared their candidacy have suggested amending the current balance of power the way their Republican counterparts have. 
Bernie Sanders
Shortly after declaring himself a presidential candidate, Vermont Senator Bernie Sanders pledged to enact a Supreme Court litmus test if elected whereby he would not nominate judges who did not promise to overturn the Citizens United decision. 
"If elected president, I will have a litmus test in terms of my nominee to be a Supreme Court justice. And that nominee will say that we are going to overturn this disastrous Supreme Court decision on Citizens United. Because that decision is undermining American democracy. I do not believe that billionaires should be able to buy politicians," Sanders told CBS' Face the Nation in May. 
Hillary Clinton
One week after announcing her 2016 candidacy, former Secretary of State Hillary Clinton began targeting Citizens United. 
"We need to fix our dysfunctional political system and get unaccountable money out of it once and for all—even if it takes a constitutional amendment," Clinton said during her first trip to Iowa in April as a candidate. 
Not to be outdone by Sanders, Clinton too began talking up a Citizens United litmus test for Supreme Court nominees. 
"I will do everything I can do to appoint Supreme Court justices who will protect the right to vote and not the right of billionaires to buy elections," Clinton told supporters at an Iowa house party two weeks ago.  
Before it's here, it's on the Bloomberg Terminal.
LEARN MORE