Julian Castro Dismisses Hillary Clinton E-Mail 'Witch Hunt,' V.P. Speculation
Benghazi panel Chairman Trey Gowdy is playing politics, Castro says.
by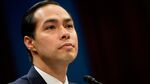 Department of Housing and Urban Development Secretary Julian Castro is defending former Secretary of State Hillary Clinton against scrutiny of her Benghazi e-mails, calling it a "witch hunt" against the Democratic presidential front-runner.
"This thing has been studied to death by Republicans and Democrats, several committees including in Congress that have all said, 'Yes, of course what happened was tragic, but Secretary Clinton was not in any way at fault,' and what you have here with these e-mails is basically a witch hunt," Castro said in an appearance Sunday on CNN's State of the Union. He added that House Select Committee on Benghazi Chairman Trey Gowdy, a South Carolina Republican, "is very intentionally trying to manipulate this witch hunt to play politics."
Castro, a former mayor of San Antonio, Texas, who is seen as a rising star in the Democratic Party, dismissed speculation that Clinton is considering him as her running mate, saying he's focused on his job at the agency. Henry Cisneros, another former HUD secretary and San Antonio mayor, recently said Castro tops the Clinton campaign's list.
"If I had a dime for every amount of speculation that happens in D.C., I think all of us would be wealthy," Castro said. "Who wouldn't be flattered by that?"
Before it's here, it's on the Bloomberg Terminal.
LEARN MORE