Senate Unable to Agree on Extending U.S. NSA Spying Program
Chris Strohm and Derek Wallbank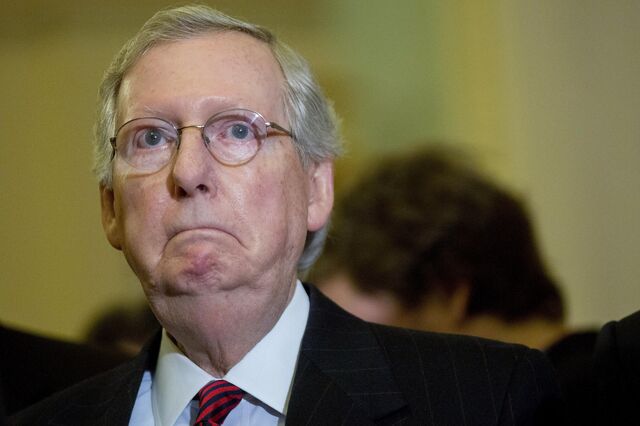 The Senate couldn't agree on extending U.S. spy programs the Obama administration said are needed to protect against terrorist attacks and members will return to work early from vacation to try to find a compromise.
Senators left Washington early Saturday for a weeklong Memorial Day break. They plan to come back a week from Sunday, one day before the programs are set to lapse on June 1.
Lawmakers' inability to reach a compromise was a setback for President Barack Obama and Majority Leader Mitch McConnell, both of whom urged extending the program to collect intelligence that could thwart terror attacks.
Early Saturday, Senators refused to consider a House plan to revise the National Security Agency spying programs, or a two-month extension of the current law. Some opponents argued it gives the government too much power to snoop on innocent Americans while others said it may weaken national security.
As McConnell proposed keeping the NSA measures in place for an extra week or even a day, fellow Kentucky Republican Rand Paul objected, and McConnell declared an impasse.
"This is a high-threat period and we know what's going on overseas," McConnell said on the Senate floor. "My colleagues, do we really want this law to expire?"
Three provisions of the USA Patriot Act are scheduled to end in just over a week, including the government's ability to collect records from companies as part of counterterrorism investigations.
Lone Wolf
Expiration of the NSA programs would, among other things, keep the government from using roving wiretaps and would limit the government's tools to search for so-called lone wolf terrorists.
The House earlier this month passed a bill, backed by Obama, that would continue most of the NSA spying programs while barring the NSA from collecting telephone metadata on Americans. The government instead would have to get a court order to obtain phone records held by telecommunication companies.
Paul, a Republican presidential candidate, held the Senate floor for more than 10 hours earlier this week pledging to block the bill.
After the Senate adjourned Saturday, Paul's office issued a statement that said he would "pick up where he left off" when the Senate returns May 31.
'All I Can'
"I will continue to do all I can until this illegal government spying program is put to an end, once and for all," Paul said in the statement.
Senate Minority Leader Harry Reid's spokesman, Adam Jentleson, blamed the impasse on McConnell's "bad habit of governing by manufactured crisis."
"Senator McConnell badly misjudged the members of his own conference and failed to listen to advice from Senator Reid and others who saw this mess coming weeks ago and tried to warn him," Jentleson said in a statement.
Senator Barbara Mikulski, a Maryland Democrat, praised NSA employees on the Senate floor and said, "We can't even pass a law."
"That is absolutely, absolutely outrageous," she said. "I am so sorry we're going home."
Obama administration officials and many lawmakers warned that the U.S. would face an increased risk of terrorist attack if the three programs expire.
'Biggest Fear'
"Our biggest fear is that we will lose important eyes on people who have made it clear that their mission is to harm American people," Attorney General Loretta Lynch told CBS News in an interview aired Friday.
The Justice Department said Wednesday that unless Congress extended the law, the NSA would begin taking steps by Saturday to wind down bulk collection of phone-call data.
The House bill, H.R. 2048, passed that chamber 338-88 on May 13. Under the measure, the government would have to get a court order to obtain phone records held by telecommunication companies.
The bill represents the only legislative effort that would restrain U.S. spying two years after former government contractor Edward Snowden began exposing classified surveillance programs.
Obama administration officials sought to build support for the bill, including a briefing for senators in the Situation Room on Thursday. The White House said senators and administration officials discussed terrorist threats and the role that intelligence tools play in thwarting plots.
Still, an independent panel appointed by Obama after Snowden's disclosures concluded that the program hasn't helped stop terrorist plots.
The metadata program "was not essential to preventing attacks," and information needed to disrupt terrorist plots "could readily have been obtained in a timely manner using conventional" court orders, the Review Group on Intelligence and Communications Technology said in December 2013.
Before it's here, it's on the Bloomberg Terminal.
LEARN MORE